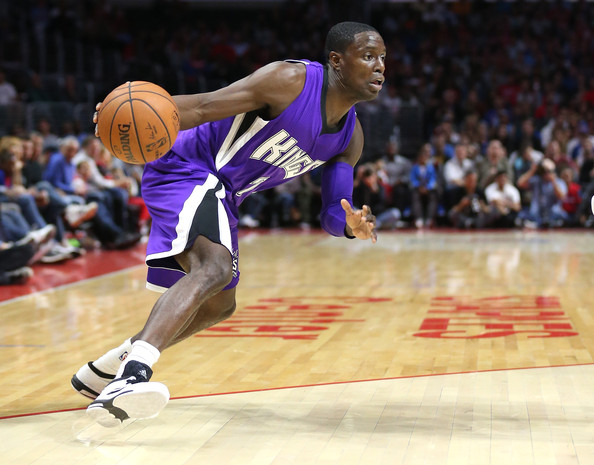 This post was written by Dylan Cooper exclusively for TheFantasyFix.com. You can follow Dylan on Twitter @DCoop328dfs.
Today's NBA daily fix features a couple players at each position that I highly recommend for today's 5-game NBA slate. In addition to the two player breakdowns per position, I'll add a few cheap risk options and tell you which ballers I am fading (not using) tonight. At the end I will list the top-5 players I'll be using at each position in cash games tonight. Remember that this is written up in advance of any starting lineup or most inactive updates. Be sure to keep your eyes on Twitter and/or Rotoworld for updates that could change things in a big way. Good luck to you all and let's get money!
Point Guards:
Kyrie Irving ($8900) – Since Lebron James' injury, Irving's usage rate has skyrocketed, and he has scored 20 or more points in seven of his last eight games, including a 35 and 38-point game. Kyrie gets a juicy matchup against the Sacramento Kings who are 25th in the league defending the point guard.
Darren Collison ($6900) – DC has been extremely consistent this year averaging career highs in points, assists and steals. He has hit his stride recently and gets a matchup against the aforementioned Irving, who is notorious for being a terrible defender. In what should be a fast paced game, Irving and Collison should each put up great lines.
Cheap risk plays: I used Jeremy Lin ($4900) on Friday night and he came through. When Lin gets minutes he puts the ball in the basket, and lately Lin has been getting a solid 25 minutes per game. With an extreme lack of value barring any late injuries, Lin is the cheapest point guard I would use on this slate. All of the cheaper options are either extremely inconsistent, in a terrible matchup, or do not get quality minutes.
PGs I'm fading tonight: Chris Paul, Goran Dragic and Isaiah Thomas
Shooting Guards:
Eric Bledsoe ($8700) – Bledsoe has put up 40+ fantasy points in six out of his last ten. Bledsoe's fantasy production has been trending upward over the past month. His assist and steal rates have risen dramatically. He also draws a nice matchup against the 28th ranked defense against shooting guards, the Memphis Grizzlies.
Kyle Korver ($4900) – The Atlanta Hawks continued their win streak with a nice win over the Pistons Friday night. Tonight the Hawks face one of their toughest challenges playing against the second ranked team in the East, the Washington Wizards. In big games the Hawks rely on Korver's record setting three point shooting ability. Korver should score between 20-35 DraftKings points.
Cheap risk plays: Similarly to Korver, J.J. Redick ($4600) is a really good three-point shooter. On this short slate Redick is a serviceable play with 35-point upside. Ben McLemore ($4400) has been racking up nearly 35 minutes per game. Though McLemore does not provide much upside, his consistent minutes give him a nice floor of about 15 DraftKings points.
SGs I'm fading: Dwyane Wade, Kobe Bryant and Nick Young
Small Forwards:
Nicolas Batum ($6000) – Nic is having an off year this season, but if you know anything about Batum he thrives in up-tempo games. In these types of games Batum racks up tons of assists, rebounds and steals. With Batum's early season woes his price is extremely affordable. In this fast paced game Batum should easily score over 30 fantasy points.
Rudy Gay ($8100) – Rudy is a little bit expensive for my tastes tonight, but with so few other options at the small forward position, Gay becomes one of the top plays. Since Cousins has come back from injury, Gay's usage rate hasn't dropped as much as expected. If you have extra salary left and can fit him in, he is the best small forward on the board.
Cheap risk plays: Matt Barnes' ($4300) price has dropped nearly a thousand dollars in the past week despite some solid fantasy performances. Barnes is a nice option for savings due to his nice scoring and block/steal ability. Tony Allen ($3800) is averaging over two steals per game adding to his fantasy value. Allen has a really nice floor and has 35-point upside due to his steal rate.
SFs I'm fading: Luol Deng, Paul Pierce and DeMarre Carroll
Power Forwards:
LaMarcus Aldridge ($10,000) – Power forward is 100% the place to pay up at tonight. Kevin Love is also a nice option, but I believe Aldridge is in a better matchup versus the Lakers. When you play Aldridge, you are signing up for 20 points and ten rebounds guaranteed, with an upside of 40 points and 20 rebounds. With the matchup against the Lakers, Aldridge should be on the higher end of the spectrum.
Markieff Morris ($6300) – Kieff is one of the most underpriced players on this slate. If you do not pay up for Love or Aldridge, Morris is the guy to play. He takes a lot of shots, and has a very good rebound rate. Morris also is in position for a nice game due to a great matchup against the Memphis Grizzlies… Yes, the Memphis Grizzles.
Cheap risk plays: At power forward I would rather pay up for either Morris or Aldridge tonight but Kris Humphries ($3900) is at a great price and can be used in either the forward or utility slots. Humphries has gotten seven rebounds and 19 DraftKings points in five of his last six games. This is the type of consistency to look for out of a punt play. Humphries is the only cheap power forward I would consider today on DraftKings (barring any late scratches).
PFs I'm fading: Blake Griffin, Paul Millsap and Zach Randolph
Centers:
DeMarcus Cousins ($10,800) – Big Cuz is an absolute monster. His numbers are through the roof. Even at this price, his rebounding, scoring and blocking abilities make him by far the best priced center play of the night. If you can somehow fit both Cousins and Aldridge comfortably into your lineup, then that is definitely the way to go.
DeAndre Jordan ($7900) – For a $2900 price drop Deandre Jordan provides you with a better rebounding rate than Cousins. Even though Jordan is nowhere near the scorer Cousins is, he is still a great mid-range center play. Jordan is one of the most consistent fantasy centers in the league and draws a nice matchup against the Heat.
Cheap risk plays: Chris Kaman ($4600) is the best value center of the night. He draws a revenge game against his old team, the L.A Lakers. Kaman should get a lot of rebounds and put-back opportunities against a fast-paced team that misses a lot of shots. Timofey Mozgov ($4700) is a very risky GPP play, in a tough matchup. The only reason he is in play for GPPs is that he could potentially start the game and play 30+ minutes.
Cs I'm fading: Chris Bosh and Jordan Hill
Cash game positional rankings: (These are in the order that I'll be using them based on situation + price, NOT who I think will score the most)
PG:
1) Darren Collison
2) Kyrie Irving
3) Mike Conley
4) Jeremy Lin
5) Jeff Teague
SG:
1) J.J. Redick
2) Eric Bledsoe
3) Kyle Korver
4) Ben Mclemore
5) Bradley Beal
SF:
1) Nicolas Batum
2) Tony Allen
3) Rudy Gay
4) Matt Barnes
5) Wesley Johnson (Questionable)
PF:
1) Markieff Morris
2) LaMarcus Aldridge
3) Kris Humphries
4) Kevin Love
5) Tristan Thompson
C:
1) DeMarcus Cousins
2) Deandre Jordan
3) Chris Kaman
4) Al Horford
5) Timofey Mozgov