Daily Fantasy Basketball Strategy: January 17, 2015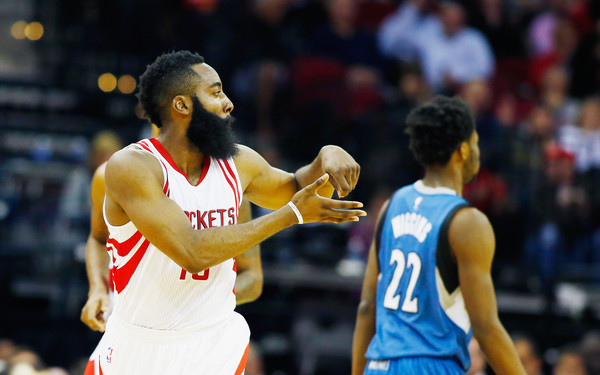 I took the night off from DFS last night and all sports in general. That's a rarity. Had a date night with the wife and as I am sure most of you are familiar with, they tend to not enjoy it when we keep updating our phone for updates and such. My wife loves sports, BUT when we have a night out to ourselves, the ladies want your full attention. Despite that, sometimes — WOW! As I write this, I just got home and sat down and saw the Aaron Rodgers end of regulation pass to tie the game with the Cardinals. I would have really hated myself had I missed a moment like that, haha — Anyways, back to my intro here… sometimes we still sneak in a lineup or two before the date begins and when they use the restroom or look away, etc.. we take a quick glance at our lineups or the score of a game. Tonight aside from glancing across the restaurant a time or two at the bar TV to faintly see a Gronk spike, I kept myself in tune with just the night out.
It's important to let your wife or girl friend have a night like this time to time, because let's face it, we're way too obsessed with sports. I forget things I was sent to the store to get all the time, but I can remember that Dirk Nowitzki averaged 26 points per game in the 2011 NBA Finals, I mean, I even get irritated at myself sometimes for this kind of stuff, imagine it from their perspective, haha. If we want them to roll with the punches of our year-round sports dedication, we have to be willing to shut it all down one night here and there, as hard as that is for us, sadly, and give them 100% of our attention.
OK, I know you're here for the breakdown and not a love lesson, so without further delay, here is the breakdown for tonight's four-game NBA DFS slate. No, I'm not including the day game, because the primary tournaments on the sites are aimed at the night slate. Let's start with the Vegas spreads and projected totals.
[cointent_lockedcontent article_labels="basketball"]
Vegas lines and totals
Dallas (+11.5) @ San Antonio — projected total of 195
Miami (+9.5) @ Oklahoma City — 200.5
Indiana (-3) @ Denver — 202.5
Houston (-9) @ LA Lakers — 206
While I'm worried about a blow out by the Spurs, Rick Carlisle seems to always find a way to keep Dallas in games with their in-state rivals, so on a small slate, I may not totally fade it. I'm actually more concerned about a blowout in the Thunder/Heat game if Wade can't go, but Russ should get his regardless. The Rockets/Lakers game seems poised for the best fantasy output, and if I were going to stack a game, that'd be it. Whether Howard plays or not is huge though.
There are several players who we're unsure whether they'll play or not tonight including Dwight Howard, Kobe Bryant (I doubt he goes), Dwyane Wade, George Hill, Ian Mahinmi, Jameer Nelson, Patrick Beverley and Brandon Bass. We already know that Goran Dragic, Jusuf Nurkic, Larry Nance and Rodney Stuckey will be out. I will try and update things as the news pours in throughout the day, and any time that I update, I will re-tweet out the link and notify you of the updates.
POINT GUARD
Russell Westbrook – Look at the available point guards tonight, there's not much there, really. Westbrook is by far the best on the board and I have him projected 20 fantasy points (FPs) higher than the next PG. The Heat will have no answer for Westbrook defensively, and unless they blow this one out — which is possible especially if Wade sits — Westbrook should go for around 50 FPs.
D'Angelo Russell – If I fade Westbrook and George Hill is ruled out, I will probably look to go cheap at this position and roll with the rookie, D-Russell. Russell seems pretty locked into his 25-30 minute off the bench role, and he's been fairly productive lately doing that, despite the Lakers being beaten down on the scoreboard. With a bit of an easier matchup tonight (especially if Patrick Beverley sits), I think Russell will land you somewhere in the 25-30 FP range.
Cheap risk option: Beno Udrih is the cheap risk play for me here tonight. Beno has seen his minutes increase in each of the past four games, hitting a season-high 37 minutes on Friday night. While I'd love to say he'll see 30+ minutes again, that's where the risk comes in, we have no clue. I'd guess he lands around 30 minutes though and all he would need is 20 FPs to hit value at his price. Also, Jason Terry should become a punt option if Beverley is out and he's ruled the starter over Ty Lawson again.
SHOOTING GUARD
James Harden – The chef is sure to be cooking (as seen in the cover photo) in the kitchen tonight. Just imagine the likes of Lou Williams and Jordan Clarkson trying to stop Harden from scoring, you can't imagine it, because it's not going to happen. The Beard will benefit even more if Dwight Howard sits this one out, giving him more shots and also keeping the game closer, longer. Look for him to put up a 50 FP performance.
Monta Ellis – George Hill is officially OUT tonight, so Monta will be your starting PG for Indy tonight. Ellis isn't going to blow us away with 50 FP performances like he once could, but with no Hill I could see him pushing close to 40 FP, and he only needs 28 to hit value. Denver likes to play at a good pace and hasn't been good against opposing PGs, so all of this bodes well for Monta's game, it will all boil down to if his shot is on or not.
Cheap risk option: If I had to go cheap here it would probably be with Gary Harris who is playing minutes in the high-30s lately and he's taken 14 shots in each of the past two games. He's far from a sure thing but only needing 20 FPs to hit value, makes him intriguing as a punt play with some upside if he gets hot.
SMALL FORWARD
Kawhi Leonard – As I said in the Vegas section, I'm not ruling this one an early blow out, because Dallas always plays San Antonio tough. Either way, Kawhi should see enough minutes to hit around value at his price which is below elite player level, even though he's an elite player. I'd rather save the money and go with him over the other top-tier SFs tonight. Leonard put up 48.5 FPs the last time these teams faced off.
Danilo Gallinari – The Nuggets scoring winger has looked like his old self recently, and crushed it in six straight games before finally having a let down in their last game against the Heat. Gallo should find his form again tonight against the Pacers, and the Nuggets have been moving him around enough from the 3 and 4 spots that he should find the spot he can really do work and stick, likely away from Paul George.
Cheap risk option: Justise Winslow is the punt attempt here if Wade remains sidelined, but the cheapest guy that I will likely be considering at this spot would be Luol Deng and even he doesn't thrill me with all of the great options at the top of this position.
POWER FORWARD
Dirk Nowitzki – Look for some of that old school Nowitzki swag tonight in this rivalry game. The Spurs don't really have a player that matches up well with Dirk. Kawhi needs to stay on Parsons, and neither Aldridge nor Duncan are that equip to stop the patented Dirk fader. Nowitzki has hit above value of this price in six straight games.
Julius Randle – Well, with Larry Nance getting hurt last night, Randle steps right up into a bigger role, likely starting. Randle is still very raw overall and sporadic on the court, but at his price, he's a terrific bargain since he'll likely get at least 30 minutes in this one. I'll be looking for around 30 FPs from the rookie as long as they keep this game decently close as I expect.
Clint Capela/Terrence Jones – Both of these guys will jump up my ranks a bit if Dwight Howard is ruled out. I will use Jones as a value option especially in GPP lineups even if Howard is active, but he really gets a boost if D12 sits.
Cheap risk option: Jordan Hill is the only guy who really stands out in that $4K and under range tonight at this spot, and with Mahinmi sitting the game out, Hill is likely to see at least 20 minutes which isn't always a sure thing for him. I still don't love him as a play, but since Denver plays a decent bit of small-ball, he has a fairly good chance of hitting above value at his price (20 FPs is value mark).
CENTER
Dwight Howard – If he plays, he's my top play at the position tonight, period. Howard loves beasting it up against the Lakers and has averaged 41 FPs in two meetings with them this year, but I am thinking he will be out for this one.
Zaza Pachulia – Pachulia has been money for the Mavs this season, and he's averaging 34 FPs over the last five games, so he's on a heater. The veteran who is averaging a double-double on the season, should continue his consistent ways in San Antonio tonight. In a GPP I may lean to Hassan Whiteside, but for cash, give me Zaza.
Cheap risk option: Nikola Jokic is probably the cheapest center I would roster tonight, as he's set up to have a nice game with Jusuf Nurkic out and he's put up 27, 23 and 25 in the last three games despite averaging just 19 minutes in those games. He also benefits from Indy being without their primary, defensively strong starting center. Myles Turner is the true all out punt play if you decide to go that route in a GPP. Turner has played 10 and 18 minutes the last two games and delivered 15 FPs in both of those. Ian Mahinmi has been ruled out, so Turner gets another little boost in playing time/value.
Cash game rankings:
This isn't necessarily an order of who will score the most DraftKings points. Rather, the rankings are aimed to find the best price, value and production combo to help you win cash games, also taking into account potential ownership levels for each player.
PG
1) Russell Westbrook
2) D'Angelo Russell
3) Jordan Clarkson
4) Beno Udrih
5) Tony Parker
6) Deron Williams
SG
1) James Harden
2) Monta Ellis
3) Dwyane Wade (if he plays)
4) Tyler Johnson (if Wade is out)
5) Gary Harris
6) Will Barton
SF
1) Kawhi Leonard
2) Kevin Durant
3) Danilo Gallinari
4) Paul George
5) Luol Deng
6) C.J. Miles
PF
1) Julius Randle
2) Dirk Nowitzki
3) Terrence Jones (if Dwight plays, Jones drops to 5)
4) Serge Ibaka
5) Chris Bosh
6) Jordan Hill
7) Darrell Arthur
C
1) Dwight Howard (if he plays)
2) Zaza Pachulia
3) Hassan Whiteside
4) Tim Duncan
5) Nikola Jokic
6) Enes Kanter
7) Myles Turner
As always, stay locked to Twitter and Rotoworld for any late-breaking news the hour before the first game tips at 7 p.m. EST. I'll do my best to update this article as news breaks throughout the day, but the best way to get the latest is always to follow me on Twitter @BigZack44, where I'll do my best to break down the implications of any late scratches or lineup changes.

[/cointent_lockedcontent]