Daily Fantasy Basketball Strategy: January 23, 2016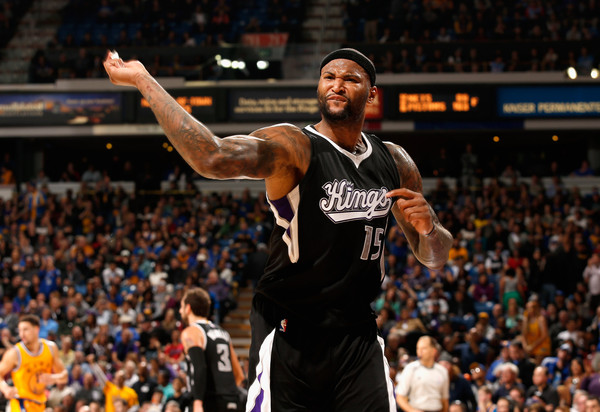 Well, it was supposed to be a big 10-game slate tonight, but instead we are looking at just eight games due to extreme weather causing two games to be postponed. I'm all for a slate getting shrunk a little bit, because it's just easier to get all the guys who like in when it's not such a huge set of games. Still eight games is no joy ride, so we will be breaking down the pre-game outlooks with Vegas numbers, pointing out the top plays and values at each position and then I will give my personal cash-game positional rankings to help you when setting your lineups to finish the night in the green. Let's get right to it.
Vegas lines and totals
New York (-?) @ Charlotte — projected total of ???
Milwaukee (+5.5) @ New Orleans — 205.5
Memphis (-3.5) @ Minnesota — 194
Chicago (+10.5) @ Cleveland — 201.5
Atlanta (-?) @ Phoenix — ???
Detroit (-3) @ Denver — 206
Indiana (+?) @ Sacramento — ???
LA Lakers (+10.5) @ Portland — 205.5
Still awaiting the lines on a few games, but it's safe to assume that the Pacers/Kings game will be very highly projected as most games are for Sacramento. There's no big time blowout concerns, but the Grizzlies/Wolves and Hawks/Suns games will likely be the lowest scoring of the night. We will be waiting to hear which of the players for the Suns will be out tonight, as they were without most of their team on Thursday due to injuries. I will be playing the Bucks/Pelicans, Pistons/Nuggets, Pacers/Kings and Lakers/Blazers games the heaviest. Now, let's get to my picks for top plays and values on the slate.
POINT GUARD
[cointent_lockedcontent article_labels="basketball"]
Damian Lillard – Yeah, the top dollar guy at the position, but I don't instantly do this unless I really believe they're the top play and worth the high price. I'm sure — unless you're new here — you know that it's always a good idea to exploit the Lakers pitiful defense, and while they're bad everywhere, they are probably the worst at guarding point guards and bigs. So, when you have a guy like Dame going against them, gimme gimme! Lillz has already played them twice this season and averaged 55 fantasy points (FPs). He's been off the past three games, but there's no better medicine to cure that than playing the Lakers — no, not even cowbell.
Reggie Jackson – The Nuggets are another team that you like to have aggressive point guards going against, and tonight is not exception with Reggie Jackson coming to town. Jackson had hit above value in three straight games before an off night on Thursday. Like Reggie a lot as a mid-tier priced cash-game play, projecting him at 36 FPs.
Cheap risk option: Unless a value play comes up due to a starter sitting out, I really don't like any of the truly cheap PGs tonight, so I may update this later but as of now I can't give you a true cheapie. The cheapest I am going (as of now) is Norris Cole who should draw another start at SG with Eric Gordon out. I wouldn't expect him to go for 30 FPs every night, but the low-to-mid 20s, and anything over 22 is value or better.
SHOOTING GUARD
C.J. McCollum – Was pretty torn on CJ or Khris Middleton here as they're at the same price and both have solid matchups, but I gave it to McCollum because his matchup is a little better and he's not on the second part of a back-to-back like Middleton. CJ has been super solid (all year) recently putting up over 30 FPs in five of the last six and tonight against the Lakers, he should push closer to 40. He's averaged 37 FPs in two games against LA.
Kentavious Caldwell-Pope – Stick with the hot hand until it burns you, and while you'd like to dodge that burn wound, I don't think this is the game where things go wrong for KCP. He's playing massive minutes every night out, and getting plenty of shots for the Pistons while hitting 50% from the field the last four games. I really like him to have a safe floor at this price line.
Cheap risk option: Langston Galloway has been getting enough PT and shots in his newish role to definitely be considered as a value play tonight. Look for him to play around 25 minutes and hit at least 20 FPs with upside. Joe Young is worth a look also if George Hill remains out, he's been a nice value the past few games off the Pacers bench.
SMALL FORWARD
LeBron James – One of his best friends is now the coach and there's no way the Bron wants to make his buddy take an L to a big conference rival in his first game as head coach. LeBron still owing the Cleveland fans after the embarrassing home loss to Golden State, had a big night Thursday against the CLippers and will keep that momentum going in this one, once again pushing 50 FPs in what looks like a murky SF slate tonight.
Giannis Antetokounmpo – Let me start by saying that if Rudy Gay sits out again, I really like Omri Casspi as the best non-Bron play here. As is though, I like Giannis in this spot. The Greek Freak has actually faired really well in the second games of back-to-backs, and going against New Orleans tonight only helps his chances of a big game despite his just decent night last night. I have Antetokounmpo projected at 35 FPs.
Cheap risk option: Another spot where there are currently no ideal value targets. Hopefully some will present themselves before games start up. The cheapest option I am using (as of now) at this spot is Shabazz Muhammad. He's still cheap, minutes have increased three games in a row and he's put up 20+ FPs in each game, his best being the latest where he went for 26.
POWER FORWARD
DeMarcus Cousins – Big Cuz is on a warpath of late and he's leaving no survivors behind. DMC is averaging 59.6 FPPG over the last nine games, yeah. The Pacers will likely be without Ian Mahinmi again and without him, they have nobody who can hold up to Cousins, not even close. Look for a big, big night from the Boogie Man.
Ersan Ilyasova – Rather than giving you another top-dollar play at this position, I am giving you one of the mid-tier plays that I think is a sneaky value option tonight. Ersan's name sends chills down most people's spine because he's done them all wrong whether in seasonal hoops leagues or DFS, but he's actually been quietly good the past week. 35, 28, 31, 33 and 16 FPs in the last five games and that last one was against Anthony Davis, so… Tonight though, Sova matches up well against the likes of Kenneth Faried and Darrell Arthur, and I have him projected at a solid 30 FPs when he only needs 26 to meet value.
Cheap risk option: Due to a lack of other options, Bobby Portis is the guy here, but note that he is the epitome of "RISK" in this category. His minutes are far from predictable, but I think the 18 minutes he played last night is around where he will stay for the time being. He is still very capable of putting up 20 FPs in 18 minutes.
CENTER
Karl-Anthony Towns – Just saying this quick tidbit: if Marc Gasol sits with his knee contusion (questionable), KAT becomes an amazing play. If Gasol is in there, KAT is just a decent play.
Willie Cauley-Stein – I know I went a little more top-player heavy than usual today, but there just isn't a lot of value jumping out as I write this, but stay alert for changes to that. Willie Trill has been great the last two games for the Kings, posting double-doubles for 31 and 35 FPs. It seems that the Kings have realized what they have in WCS and are finally letting him loose. He's a great value play tonight.
Myles Turner – Another rookie who is finally getting enough run to shine through, and coincidentally, these rookies face off tonight. The one concern with Myles is if he is put on Cousins any, he could find himself in foul trouble. Either way though, he's cheap enough that he could still hit value. This is all under the assumption that Ian Mahinmi will again be out. Three straight really good showings off of the Pacers bench for the rookie out of the University of Texas.
Cheap risk option: Meyers Leonard is one more cheap option here, and after three straight solid showings (23, 27 and 27 FPs), Leonard finds himself with his best matchup yet, against the putrid Lakers. Look for Meyers to hit over that 20 FP value line for the fourth straight game.
Cash game rankings:
This isn't necessarily an order of who will score the most fantasy points. Rather, the rankings are aimed to find the best price, value and production combo to help you win cash-games, also taking into account potential ownership levels for each player.
PG
1) Damian Lillard
2) Reggie Jackson
3) Kyrie Irving
4) Kemba Walker
5) Emmanuel Mudiay (if Jameer is out again)
6) Norris Cole
7) Mike Conley
8) Joe Young
SG
1) C.J. McCollum
2) Khris Middleton
3) Tyreke Evans
4) Kentavious Caldwell-Pope
5) Jimmy Butler
6) Monta Ellis
7) Kobe Bryant
SF
1) LeBron James
2) Omri Casspi (if Gay is out)
3) Giannis Antetokounmpo
4) Paul George
5) Carmelo Anthony
6) Danilo Gallinari
7) Shabazz Muhammad
PF
1) DeMarcus Cousins
2) Anthony Davis
3) Kristaps Porzingis
4) Kevin Love
5) Ersan Ilyasova
6) Julius Randle
C
1) Karl-Anthony Towns (if M. Gasol sits, falls to 4 if he plays)
2) Willie Cauley-Stein
3) Meyers Leonard
4) Myles Turner
5) Andre Drummond
6) Greg Monroe
7) Robin Lopez
As always, stay locked to Twitter and Rotoworld for any late-breaking news the hour before the first game tips at 7 p.m. EST. I'll do my best to update this article as news breaks throughout the day, but the best way to get the latest is always to follow me on Twitter @BigZack44, where I'll do my best to break down the implications of any late scratches or lineup changes.

[/cointent_lockedcontent]