Daily Fantasy Basketball Strategy: March 1, 2016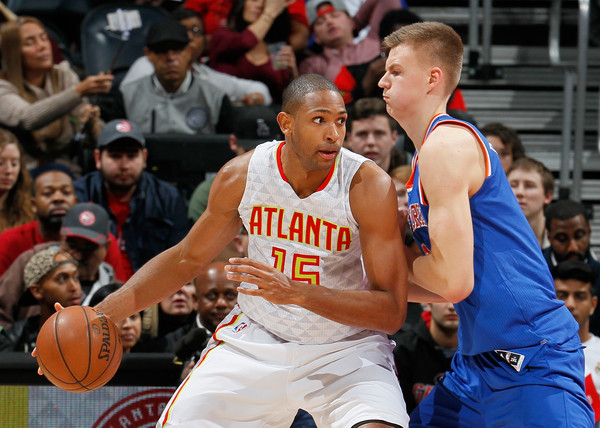 The NBA calm before the storm continues Tuesday with just six games on the slate. We haven't seen more than eight games since last Wednesday, which is just fine if you ask me. Not only are there less back-to-backs to deal with, but there are also less games to analyze and write up as well. It also makes the top plays of the day more clear. Wednesday will be a disaster though. Anyway, let's gauge Vegas' feelings on Tuesday's slate.
Vegas lines and totals
Phoenix @ Charlotte (-13) – total of 205.5
Portland (-5) @ New York – total of 207.5
Chicago @ Miami (-5.5) – total of 200.5
Orlando @ Dallas (-5) – total of 212.5
Brooklyn @ L.A. Lakers (-1.5) – total of 212.5
Atlanta @ Golden State (-11.5) – total of 225
Hawks-Warriors has easily the highest total of the night, and the 11.5-point spread isn't exactly as likely for a blowout as the 13-point spread on Suns-Hornets. It projects as a game that's played in the 8-to-10-point range all night, but the Dubs can always hit you with a late barrage to cover. There are no games to totally fade on this slate, which is always nice when it's a short one in terms of games in action. Keep reading to find out Tuesday's top plays.
[cointent_lockedcontent article_labels="basketball"]
POINT GUARD
Kemba Walker – There's definitely some blowout fear in this one, as alluded to above, but Walker is otherwise in a great spot. He plays better at home, gets the best matchup on the board for opposing point guards against the tanking Suns and had scored 20 or more points in eight straight games before the Hawks held him to nine points Sunday. There's no better spot for a bounceback than this one for Walker.
Donald Sloan – Many will be on D'Angelo Russell for a few dollars more than Sloan, and Russell certainly isn't a bad play—he's my No. 3 PG. But I have Sloan projected for a value-crushing night against the Lakers, and the only potential downfall of this pick is the Nets playing on the second night of a back-to-back. Sloan hasn't dealt with the grueling grind of starting for the entire season, however, and the L.A. defense is truly porous, far worse than the Nets'. I like Sloan as a great value play in cash games Tuesday.
Cheap risk option: If Curry sits out Tuesday's game, Shaun Livingston becomes a must-start option against the Hawks. Atlanta is slightly tough on opposing PGs—look no further than Walker's blurb above for evidence—but Livingston's price, increased minutes and usage and the total of this game make this one not worth overthinking. We may not know Curry's status before lock, which makes this a risky pick even on sites with late swap as it's one of the last two games of the night, but this play could pay off if the Dubs decide to rest their hobbled star.
SHOOTING GUARD
Klay Thompson – Thompson is a good play even with Curry on the court but if Steph sits, Thompson will be about as must-play as it gets. Thompson's usage rate without Curry on the court jumps from 24.1 to nearly 30, and Kyle Korver is not a good defender. Thompson should hit fantasy points in the high 30s regardless, but you can bump his projection up around 10 points if Curry is out.
Wesley Matthews – The 2015-16 season has been a struggle for Matthews after his return from a serious Achilles injury. Matthews looks to have found some consistency lately though, scoring at least 15 points in four straight games and five of his last six. He's a much better player this his current price tag and while Victor Oladipo is a good defender, Matthews should be a nice source of value for the team with the second-highest total of the night.
Cheap risk option: Wayne Ellington's concussion Monday night could be Markel Brown's gain Tuesday. Brown has been playing well off the Brooklyn bench of late, especially after Joe Johnson was bought out, and should move into the starting lineup assuming Ellington doesn't play. While Brown is far from an elite offensive player, his defense can create fantasy points as well and his price is still low despite his recent solid play. There's bust potential, but also a good chance to turn a tidy profit.

SMALL FORWARD
Chandler Parsons – Let's get this much out of the way quickly: Small forward is trash Tuesday night. I have just three players projected over 30 points and one is Carmelo Anthony, who has a tough matchup against Al-Farouq Aminu and the Blazers and may not hit value. Much of the problem is the abundance of players listed as SGs starting at SF and Parsons is the second-most expensive SF on the board. Dallas should score a lot against the Magic, who may be starting Mario Hezonja at small forward if Evan Fournier sits, and Parsons would be likely the biggest part of any offensive explosion.
Luol Deng – Deng is not far behind Parsons in the projections Tuesday night, as he draws a nice matchup against Mike Dunleavy and the Bulls, his former team. The revenge game comes into play yet again on a night I'm tasked with this writeup, and if you're sucker for that kind of narrative—I'm generally not—then it's another reason to play. Unless I need the cap savings though, I'm going with Parsons and doing my best to avoid doubling up at the position on sites where you only need one.
Cheap risk option: "Don't look now, but Mike Dunleavy is finally shaking off the rust from months of back problems" – me in Sunday's writeup. One 13-5-5 line later and Dunleavy's price is now jacked up from its sub-$4,000 days. The matchup against Miami is tough and Derrick Rose's return could steal a few shots from the veteran, but he's still underpriced for his recent performance, which is all you can really ask at this barren position.

POWER FORWARD
Draymond Green – Playing Green on Tuesday has much more to do with his matchup than Curry's injury. Green's usage rate actually stays the same with or without Curry on the court, as Klay Thompson ends up being the bigger beneficiary in terms of ending possessions. Green does see an increase to his assist rate with more ball-handling responsibilities, but he's the top PF of the night regardless of Curry's status unless a few other questionable players—Arron Afflalo and Fournier come to mind—sit and create opportunities for other PFs.
Aaron Gordon – Gordon would be my top PF play if Fournier sits Tuesday, as he does receive a slight usage bump with Fournier off the court. If Fournier plays, Gordon is battling for the No. 2 spot with Marvin Williams and Dirk Nowitzki, but the possibility he vaults even higher—which doesn't exist for the other two—leads me to him in this spot, but it's a potentially fluid situation.
Cheap risk option: This one is easy, as anytime you can get a player like David Lee, who is averaging a double-double over his last two games, at a bargain price, you lock it in. He's no sure thing coming off the bench, especially if Zaza Pachulia wakes up and has a nice game, but Lee is certainly well worth a cheap GPP flier and I've seen worse cash-game plays in this price range as well. He's just not preferred in that particular scenario.
CENTER
Al Horford – There are a lot of good options at center Tuesday night, but Horford is easily the best of the bunch. Big Al has been destroying his price of late and gets a matchup against a Warriors team that he dominated for 23 points, 16 rebounds, six assists, five steals and three blocks just eight days ago in Atlanta. Horford doesn't play quite as well on the road and Golden State may be focused on slowing him down, but he's still easily my top center of the night. The only player at the position I expect to score more points is Pau Gasol, and that's only if Derrick Rose sits.
Alex Len – I generally try to avoid players on the wrong end of a blowout, especially one where their team isn't even projected to hit 100 points. Len is a great exception to that rule, however, as he looks poised to start and see 30-plus minutes yet again. Late swapping him in Saturday night was a huge boon to a few of my lineups, and while I'm expecting another 50-point fantasy performance, something in the mid-to-high 20s will do with the upside for more if the game stays close.
Cheap risk option: Center has a lot of good options, but few of them are cheap. Andrew Bogut had a nice game opposing Horford in their last matchup with 11 rebounds and five blocks to go along with a few other stats, and he would see a boon to his value without Curry as well as a big man with the ability to handle the ball at the high post and make effective passes. He should see a full complement of minutes as well, barring a blowout or in-game injury, as Golden State looks to slow down Horford.

CASH GAME RANKS
This isn't necessarily an order of who will score the most fantasy points. Rather, the rankings are aimed to find the best price, value and production combo to help you win cash games, also taking into account potential ownership levels for each player.
PG
1) Donald Sloan
2) Kemba Walker
3) D'Angelo Russell
4) Goran Dragic
5) Jeff Teague
6) Stephen Curry (if he plays)
7) Jordan Clarkson
8) Deron Williams
9) Damian Lillard
SG
1) Wesley Matthews
2) Klay Thompson
3) C.J. McCollum
4) Kobe Bryant
5) Nicolas Batum
6) Victor Oladipo
7) Arron Afflalo (if he plays)
SF
1) Chandler Parsons
2) Luol Deng
3) Joe Johnson
4) Carmelo Anthony
5) Mike Dunleavy
6) Harrison Barnes
PF
1) Draymond Green
2) Aaron Gordon
3) Marvin Williams
4) Dirk Nowitzki
5) Thaddeus Young
6) Julius Randle
7) David Lee
8) Kristaps Porzingis
9) Paul Millsap
C
1) Al Horford
2) Hassan Whiteside
3) Alex Len
4) Robin Lopez
5) Brook Lopez
6) Pau Gasol
7) Nikola Vucevic
8) Andrew Bogut
As always, I'll do my best to update this article as news breaks throughout the day if at possible, so follow me on Twitter @christripodi for last-minute updates and suggestions before the first game starts at 7 p.m.
[/cointent_lockedcontent]
//