Daily Fantasy Basketball Strategy: March 11, 2016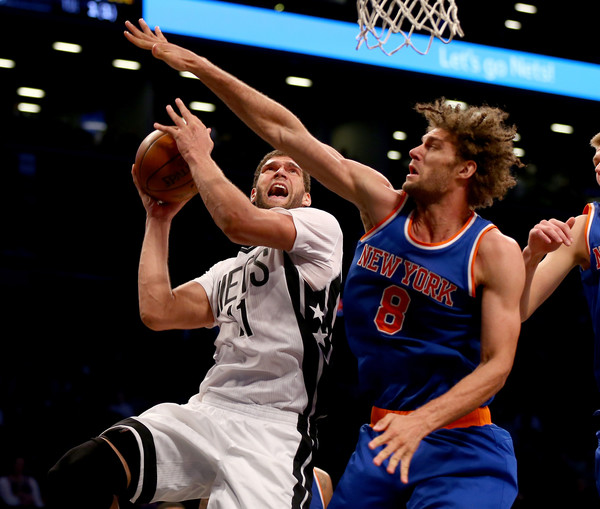 DFS scores are getting juicy as the season winds down and teams continue to rest players with nagging injuries or for no reason at all. That may happen Friday as well, but there are already a few key absences that will play a big part on a 10-game slate. Let's see which games Vegas has pegged as the top ones to target.
Vegas lines and totals
Brooklyn (-3) @ Philadelphia – total of 211
Detroit @ Charlotte (-4.5) – total of 201.5
Houston @ Boston (-6) – total of 223
New Orleans @ Memphis (-1) – total of 204
Minnesota @ Oklahoma City (-12) – total of 225.5
Miami @ Chicago (-1) – total of 201
Washington @ Utah (-4.5) – total of 201
Orlando @ Sacramento (-1) – total of 220
New York @ L.A. Clippers (-10) – total of 202.5
Portland @ Golden State (-12.5) – total of 227
There are four monster lines Friday and only one other within 15 points of them. That's going to lead to a serious focus on about half the slate tonight, but two of those games are projected as blowouts, while two should play pretty tight. Rockets-Celtics and Magic-Kings are easily the top two targets of the night, which will be reflected in the top plays below.
POINT GUARD
[cointent_lockedcontent article_labels="basketball"]
Isaiah Thomas – This pick may seem strange on the surface against Patrick Beverley, but hear me out. The Celtics are projected to score 114 points on Friday, highest on this slate, and Thomas has been outplaying his price tag of late. He's averaging 27.8 points per game in his past four and as the leader of Boston's offense, he is still very likely to lead the team in shots in a high-paced game that should feature plenty of scoring. Don't less the somewhat tough matchup fool you, Thomas is a nice play Friday night.
Darren Collison – No DeMarcus Cousins has repercussions in the Kings backcourt too, as they are far more likely to run small. With Ben McLemore out, Collison should be in line for 30-35 minutes in a close, high-scoring game with Orlando, and I wouldn't be surprised to see him score around 30 fantasy points, which would be great value at his cheap price tag.
Cheap risk option: There are a few cheap PGs who could find themselves with a boatload of playing time Friday depending on injuries. Both Brandon Jennings and Toney Douglas are risky plays right now, but they could vault into great cash-game values if Elfrid Payton and Norris Cole sit out with injuries. Keep an eye on the reports as the day moves along. Douglas is a nice flier even if Cole plays, but Jennings is off limits without word on Payton.

SHOOTING GUARD
Victor Oladipo – No Nikola Vucevic means extra goodies for Oladipo in addition to the best SG matchup on the board against the Kings. I'll stop short of calling Oladipo a must-play overall, but considering the rest of the SG landscape, he's head and shoulders above the rest at this position.
E'Twaun Moore – Moore's price dropped once Jimmy Butler returned, but that was short-lived and Moore is back in the starting lineup with Butler doubtful to play Friday. Moore has averaged 18 points and 5.5 assists in his past two games filling in for Butler, and while his 14-of-23 shooting from the field won't last, he's still a nice value against a Miami team that might be without a questionable Dwyane Wade.
Cheap risk option: The Grizzlies are gutted in the backcourt, pushing Vince Carter back into fantasy relevance. Well, DFS relevance at least. Anyway, Carter sees more wing minutes as others cover the minutes of Mike Conley, and he'll see more shots as well, especially if Zach Randolph is out. Toss in a good matchup against an equally decimated Pelicans backcourt and you have the recipe for a GPP sleeper.
SMALL FORWARD
Rudy Gay – With Cousins out of the lineup, Gay's usage rate skyrockets from 20.7 to 27.7. That's enough to make him a must-play option on a 10-game Friday night, even though he may see a decent amount of Victor Oladipo. The sheer amount of shots he's going to see should easily pay off his price tag, which is over $1,000 lower than it was earlier in the season. He should be highly-owned, with good reason.
Robert Covington – Covington's price is climbing with a larger offensive role in Jahlil Okafor's absence, but that's not reason to expect anything less from him as a DFS option. In a nice matchup with the Nets, Covington should push for 40 fantasy points, which would still beat his price at its current level.
Cheap risk option: Gay is the top SF option among Kings, but Omri Casspi is a nice cheap flier off the bench. Like Gay, his usage jumps dramatically without Cousins in the lineup and his price is as low as its been in months. Sacramento should have the option to go small as much as it likes against Orlando tonight with Gay at PF, opening up some nice minutes for Casspi. He'll just need to take advantage.

POWER FORWARD
Anthony Davis – Davis went off on my suggestion Wednesday, and I'm going back to the well against a Grizzlies well that could be absolute decimated in the frontcourt. If Randolph sits out, they may once again start JaMychal Green and Ryan Hollins up front. That's easy pickings for a stud like Davis, who comes into this game with some momentum as well.
JaMychal Green – If these plays look the same as Wednesday's, it's because they are. Green's price has skyrocketed, and rightfully so, but there's still enough value to squeeze out of him here until he jumps another $500 to $1,000. He'll be a must-play if Randolph sits but at this new price, you can fade him if you want. He's still a top play though, and pretty easily.
Cheap risk option: The minutes have been there for Jason Smith with Nikola Vucevic out, but the production has been shaky. Smith gets a great matchup against the Kings without Cousins though, and if he sees another 20-plus minutes, he should be able to score 20-plus fantasy points. There's risk he hangs around 15 though if his mid-range jumper isn't falling, but he also has plenty of upside.
CENTER
Brook Lopez – Insert center vs. Philly here. Sorry for re-using my line from Wednesday, but it applies each and every time the 76ers play, with or without Jahlil Okafor. Philly misses a lot of shots and can't defend the post, which means Lopez could see a few extra boards and tons of scoring opportunities in the paint. He's playing above his price tag of late and combined with the matchup, he's pretty much a must-play.
DeAndre Jordan – If you, for some reason, don't want Lopez on Friday, Jordan is a nice option who will go under-owned with everybody on Lopez (GPP alert!). The Knicks have struggled against centers lately and also miss their share of shots, and Jordan should have no trouble cleaning the boards. A 20-20 game is not out of the realm of possibilities.
Cheap risk option: Without knowing the Kings starting lineup with DeMarcus Cousins against Orlando, Kosta Koufos is a tough guy to suggest as anything more than a GPP punt. But here it is, as he'll have a nice matchup with Jason Smith if he does draw the start and should see 20-25 minutes, enough to easily pay off his minimum price tag.
CASH GAME RANKS
This isn't necessarily an order of who will score the most fantasy points. Rather, the rankings are aimed to find the best price, value and production combo to help you win cash games, also taking into account potential ownership levels for each player.
PG
1) Darren Collison
2) Isaiah Thomas
3) Kemba Walker
4) Ish Smith
5) Russell Westbrook
6) Jrue Holiday
7) Norris Cole (if he plays)
8) Elfrid Payton (if he plays)
9) Goran Dragic
10) Stephen Curry
SG
1) Victor Oladipo
2) Evan Fournier
3) James Harden
4) E'Twaun Moore
5) Nicolas Batum
6) Klay Thompson
7) Vince Carter
8) Dwyane Wade
9) Zach LaVine
10) Bojan Bogdanovic
SF
1) Rudy Gay
2) Robert Covington
3) Kevin Durant
4) Omri Casspi
5) Jae Crowder
6) Tony Allen
7) Matt Barnes
8) Trevor Ariza
9) Luol Deng
10) Gordon Hayward
PF
1) Anthony Davis
2) JaMychal Green
3) Jason Smith
4) Aaron Gordon
5) Thaddeus Young
6) Quincy Acy
7) Draymond Green
8) Zach Randolph (if he plays)
9) Serge Ibaka
10) Nerlens Noel
C
1) Brook Lopez
2) DeAndre Jordan
3) Pau Gasol
4) Dwight Howard
5) Jared Sullinger
6) Andrew Bogut
7) Hassan Whiteside
8) Andre Drummond
9) Karl-Anthony Towns
10) Rudy Gobert
As always, I'll do my best to update this article as news breaks throughout the day if at possible, so follow me on Twitter @christripodi for updates and advice leading up to first tip at 7 p.m.
[/cointent_lockedcontent]