Daily Fantasy Basketball Strategy: March 15, 2016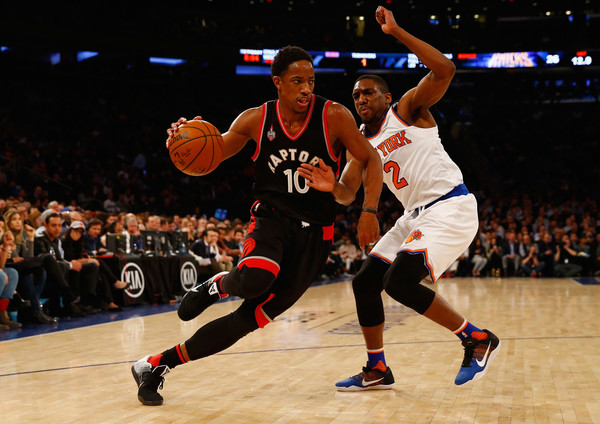 Tuesday's six-game slate lacks the excitement of Monday's nine-gamer, and just two teams find themselves on the second end of a back-to-back set. Scores are unlikely to be quite as high Tuesday as they have been lately, as least before any injuries or rest that comes about during the day. Let's see how Vegas projects what could be a rather tame night in DFS.
Vegas lines and totals
Boston @ Indiana (-2) – total of 207.5
Denver @ Orlando (-5) – total of 211
Philadelphia @ Brooklyn (-7) – total of 208.5
Toronto (-2) @ Milwaukee – total of 206.5
L.A. Clippers @ San Antonio (-9) – total of 200
Sacramento (-2.5) @ L.A. Lakers – total of 217.5
After a loaded Monday which saw a spread over 230, one over 220 and one over 215, Tuesday offers just one above 211; Kings-Lakers is a battle of teams who struggle defensively, which makes it a prime DFS target. Clippers-Spurs looks like a game to avoid, which the largest spread and the lowest total, while the rest of the games project within five points of each other in terms of spread and total. That means much of Tuesday's action will be determined by injuries and streaks, which leads us right into the top plays.
POINT GUARD
[cointent_lockedcontent article_labels="basketball"]
Isaiah Thomas – I went against the grain and suggested Thomas against Patrick Beverley and the Rockets last Friday, and he went off for 30 points. His assists are down a bit of late, but Thomas is averaging over 28 points per game in his last five and has reached value in six straight. If I wasn't scared of Beverley, I sure won't be scared of George Hill. Point guard is the best position to attack the Pacers.
Darren Collison – Collison has been starting in the last few games, and his price is low enough where 30 fantasy points would be a great return on value. Collison has been good in his recent games in the first unit and while he won't explode like he would if he were running the point with Rajon Rondo out, he plays well enough off the ball and sees heavy enough minutes to easily hit value on his price in a cake matchup with the Lakers.
Cheap risk option: The Nuggets backcourt situation can be hit or miss on a nightly basis, but D.J. Augustin has been very solid since coming over from the Thunder at the trade deadline. He's hit value in seven straight games and gets additional run when Emmanuel Mudiay struggles. While the rookie is coming off a big game, it's the second night of a back-to-back, and Mike Malone can get funky with his rotations. Augustin has a solid floor and a nice ceiling as well.

SHOOTING GUARD
DeMar DeRozan – Tuesday's cover boy has a lot going for him. His matchup with the Bucks is quite good, and DeRozan's play of late can be described the same way. He's averaging almost 29 points per game in his last seven, and the likely absence of Jonas Valanciunas gives him the opportunity for a few extra shots as well. DeRozan is a top play even if JV plays, but lock him into all your lineups if the Raptors center is out.
Evan Turner – With Jae Crowder set to miss multiple weeks, Turner is the likely replacement starter for the Celtics. While the matchup with the Pacers isn't ideal, his price is and Turner should do much of the facilitating on offense that Thomas hasn't been doing. He's one of the top value plays on Tuesday's slate, provided he does start. He'll be fine off the bench, but it'll drop his projection just enough that I'll look in other directions rather than making him a priority.
Cheap risk option: He's not a sexy name, but Hollis Thompson has provided a lot of bang for the DFS buck lately. With seemingly the entire 76ers team going down around him, Thompson has been one of a handful of constants in the rotation. Before a dud against the Pistons, Thompson had five straight double-digit scoring performances including one outing with over 30 fantasy points. The potential for that is certainly there Tuesday against the Nets with Philly so beat up.
SMALL FORWARD
Giannis Antetokounmpo – His price continues to rise as he keeps flirting with triple-doubles on a nightly basis, but Antetokounmpo is, believe or not, still not at his peak as far as value goes. A matchup with Toronto isn't ideal, but he plays far better at home this season and has been too good to worry about James Johnson. The Bucks offense now runs through the Greek Freak, and that should continue Tuesday and for the rest of the season.
Kawhi Leonard – I don't like recommending the top two players at a position often, especially when neither is an out-of-this world play, but SF is hot garbage Tuesday night. Five of the 12 teams playing start players at SF who are listed at other positions, leaving the pickings slim at the 3. Leonard has a nice matchup with the Clippers at one of their two major weak spots, although the likelihood of Wesley Johnson starting with Paul Pierce doubtful puts a tougher defender on Kawhi. Regardless, he should get his as one of the two SFs projected to top 40 points Tuesday. Paul George and Rudy Gay aren't bad options themselves, but the position falls off a cliff after that.
Cheap risk option: If Valanciunas does wind up missing Tuesday's game, that means more run for the forwards on the Toronto roster. Luis Scola and Patrick Patterson would play a little more center, leaving some extra power forward minutes for James Johnson to grab along with an extra touch or two. Those small advantages add up quicker for min-priced players than the high-priced guys, and Johnson actually has more upside than you'd think in a good matchup against a Milwaukee team that doesn't guard the wings well.

POWER FORWARD
LaMarcus Aldridge – If SF is one of the Clippers' two weak spots on defense, then PF is the other. Luc Richard Mbah a Moute just isn't an NBA-caliber starter, but neither is Jeff Green as the Clippers struggle to replace Blake Griffin at the 4. Aldridge comes in scorching hot, hitting value in seven straight games with no less than 23 points scored in any of them. San Antonio has quickly become Leonard and Aldridge's team, and he's fitting in just fine. He'll fit into your lineup just fine as well Tuesday.
Carl Landry – Landry has always been a great per-minute producer in fantasy, he's just never been consistent enough to garner the requisite minutes to be viable for more than a few weeks at a time. With Jahlil Okafor, Robert Covington, Jerami Grant and Richaun Holmes all out Tuesday, Landry is a near-lock for 25 minutes no matter how he's playing. He's seen exactly that amount of PT in his last two starts, and should bring his usually efficient scoring and decent rebounding against the Nets, making him a great cheap play to save some money.
Cheap risk option: I've suggested quite a few Raptors for Tuesday's action, and Patrick Patterson is another in a long line of potential beneficiaries of Valanciunas' injury. Patterson's consistency of late has been great, and Valanciunas sitting can only help his playing time and, therefore, his projection. Fire him up no matter what a cheap GPP punt, but be more confident if JV is out.
CENTER
Brook Lopez – Lopez didn't blow up late last week against Philly, but 24 points and seven rebounds will do at his price tag, especially when he adds in three blocks. The 76ers do get blocked a lot, and his boards were below his season average, a surprise considering how many bricks Philadelphia has bounce off the rim and into the hands of opposing big men. I'd consider Friday's performance the floor for Lopez in the best center matchup in the NBA.
Bismack Biyombo – This play is 100 percent contingent on Valanciunas missing Tuesday's game, so keep an eye on the injury report throughout the day. If JV is ruled out, which seems like a better than 50-50 chance, Biyombo becomes the top value play of Tuesday's slate. He should have a great chance to clear 30 minutes and push for a similar amount of fantasy points in a nice matchup against the Bucks. A Landry-Biyombo frontcourt will allow you to spend a lot of money in the backcourt and on the wing.
Cheap risk option: He got the start in Orlando's last game, but Dewayne Dedmon played just 15 minutes against the Blazers, who love to run small. The Nuggets play a similar style of basketball, one that may not fit Dedmon's skill set, which explains the risk in this pick. If Dedmon gets off to a hot start, Scott Skiles may try to force the Nuggets to play his team's way, as favorites are often able to do. There's upside here, but also some dud risk as well.
CASH GAME RANKS
This isn't necessarily an order of who will score the most fantasy points. Rather, the rankings are aimed to find the best price, value and production combo to help you win cash games, also taking into account potential ownership levels for each player.
PG
1) Darren Collison
2) Isaiah Thomas
3) D.J. Augustin
4) D'Angelo Russell
5) Rajon Rondo
6) Emmanuel Mudiay
7) Ish Smith
8) Jordan Clarkson
9) Isaiah Canaan
10) Elfrid Payton (if he plays)
SG
1) DeMar DeRozan
2) Evan Turner (if he starts)
3) Khris Middleton
4) Gary Harris
5) Evan Fournier
6) Victor Oladipo
7) Monta Ellis
8) Avery Bradley
9) Hollis Thompson
10) Kobe Bryant
11) Bojan Bogdanovic
SF
1) Giannis Antetokounmpo
2) Rudy Gay
3) Kawhi Leonard
4) Paul George
5) Omri Casspi
PF
1) Carl Landry
2) LaMarcus Aldridge
3) DeMarcus Cousins
4) Julius Randle
5) Thaddeus Young
6) Patrick Patterson
7) Aaron Gordon
8) Kenneth Faried
9) Nerlens Noel
10) Myles Turner
C
1) Bismack Biyombo (if Valanciunas is out)
2) Brook Lopez
3) Dewayne Dedmon (if Vucevic is out)
4) Nikola Vucevic (if he plays)
5) Jared Sullinger
6) Greg Monroe
7) Tim Duncan
8) Ian Mahinmi
9) Jonas Valanciunas (if he plays)
As always, I'll do my best to update this article as news breaks throughout the day if at possible, so follow me on Twitter @christripodi for updates and advice leading up to first tip at 7 p.m.
[/cointent_lockedcontent]
//