Daily Fantasy Basketball Strategy: March 16, 2016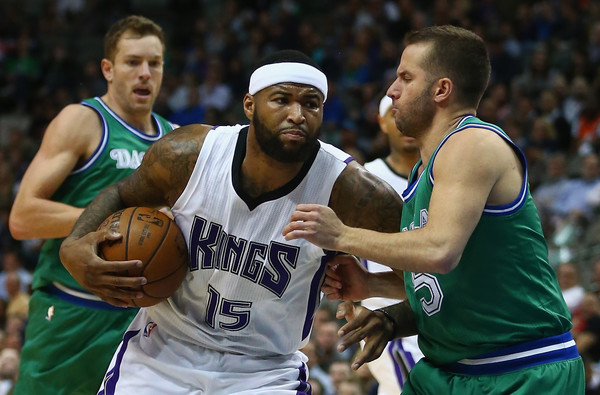 We're back with nine NBA games Wednesday, including a few teams that have been stricken by injury at this late juncture in the season. Mining value from those situations is always key to DFS success, but so is understanding how a game is likely to be played. The Vegas lines always help with the latter scenarios.
Vegas lines and totals
Orlando @ Charlotte (-9) – total of 210.5
Dallas @ Cleveland (-9.5) – total of 208.5
Chicago @ Washington (-5) – total of 212.5
Oklahoma City (-3.5) @ Boston – total of 219
Atlanta @ Detroit (-1) – total of 197.5
Minnesota (-3) @ Memphis – total of 206
L.A. Clippers @ Houston (-3) – total of 214
New Orleans @ Sacramento (-2.5) – total of 222.5
New York @ Golden State (-15.5) – total of 220.5
There are two especially nice lines Wednesday, with Thunder-Celtics and Pelicans-Kings playing near 220 total points with close spreads. The Warriors should blow the Knicks out of the water, but add Clippers-Rockets as an appealing DFS game on this nine-game slate as well. The Grizzlies' situation will likely factor into many DFS lineups, but let's take an early look at the top plays with what we do know.
POINT GUARD
[cointent_lockedcontent article_labels="basketball"]
Darren Collison – With Ben McLemore out, Collison continues to thrive as the Kings' starting shooting guard. Collison will often push for 40 minutes at night and brings very reliable production to the table, making him a great value play against the decimated Pelicans. It's been a while since he underperformed his price.
Brandon Jennings – This play is contingent on Elfrid Payton missing Wednesday's game, but that seems more like than not to happen. Jennings was outstanding Wednesday against the Nuggets and while the Hornets are a tougher matchup, Jennings should see minutes in the high 20s at least, allowing him to pay off his minuscule price tag rather easily. It's a great slate to go cheap at PG
Cheap risk option: The Memphis situation has DFS players on alert, and recently signed Ray McCallum is one of many low-priced options in Memphis. He's not starting over Briante Weber, but he sees much more usage off the bench and seems locked into minutes in the high 20s. McCallum has some upside at his still-near-minimum price, especially if Lance Stephenson sits out.

SHOOTING GUARD
Jimmy Butler – There's a good chance Butler's minutes are once again limited in the 33-to-35 range, but the extra touches he'll see in the absence of Pau Gasol—and maybe Derrick Rose—more than make up for a few minutes on the court. The Wizards have been stingier against SGs of late, but Butler still shouldn't have much of a problem dropping the top SG score of the night.
Evan Fournier – Fournier is thriving without Payton and Nikola Vucevic in the lineup, and he's averaging 20.8 points per game in his last five. Fournier will likely draw Courtney Lee while Nicolas Batum defends Victor Oladipo, giving the Frenchman the better matchup in this one along with the increased usage from Payton's absence.
Cheap risk option: Speaking of Courtney Lee, he profiles as a solid cheap GPP flier Wednesday. Lee took some time to get acclimated to his new team, and his price still reflects his early-Charlotte days slump. Lee is getting over nine shots per game and making the most of them, and if he can do it again against the Magic, less people will sleep on him.
SMALL FORWARD
Matt Barnes – Barnes hasn't been great since his triple-double as the Grizzlies have been beaten by double-digits their last two times on the court. The Timberwolves seem like an unlikely candidate to come into Memphis and throw up a crooked enough number to run Memphis off its own floor, however, meaning Barnes' minutes should be back in the mid-30s against a team that can't defend the wing.
Jeff Green – Green can always be viewed as an inconsistent player, which he is, but he draws a juicy matchup against the Rockets and is a very viable value play if Paul Pierce continues to sit with his toe injury. Wesley Johnson is coming off a monster dud of his own, so Green's minutes could be locked in for at least the first half of next game.
Cheap risk option: After getting cut by the Clippers after his second 10-day contract expired, Alex Stepheson latched on with the beat-up Grizzlies and has performed well in the past two games. Sure, the Grizzlies were blown out and Stepheson's minutes would likely be in the 15-20-minute range in a close game, but it isn't a foregone conclusion that Memphis can stay tight in this one.

POWER FORWARD
DeMarcus Cousins – Cousins hasn't been in early-season form for a while now, but he has everything going for him Wednesday. The Kings have the highest team total of the night, New Orleans can't defend PFs and he's playing at home. Sounds like a guy you should lock in before anyone else, besides the cheap value plays, of course.
Taj Gibson – Gibson blew up in Pau Gasol's absence Monday, and there's no reason to think that can't happen again despite a tough matchup with the Wizards gigs. He could very well see around 35 minutes, which would put him near 30 points for the night. I'm not quite projecting him to get there, but he's still a great value.
Cheap risk option: Another player gaining value from a teammate's injury is Jonas Jerebko, who played three more minutes (26) than starter Amir Johnson on Tuesday. Jerebko had 17 points off the bench and should see another similar workload Wednesday at a bottom-barrel price.
CENTER
Enes Kanter – I chickened out of playing Kanter on Monday, although it didn't cost me a cash-game penny. I won't make that mistake again against the Celtics, who don't defend opposing bigs well. While the bubble could burst at any moment, Kanter is still sitting at a value price, so only a complete and utter dud would make him a truly poor choice.
Willie Cauley-Stein – Like point guard and, to a lesser extent, small forward, center is a great position to save money at so you can pay for some high-priced guys at other positions. Back in the starting lineup and seeing around 30 minutes per night, Cauley-Stein should be able to get close to the production he enjoyed earlier this season with similar playing time, which led to his price jumping almost $2,000 from its current level by the time everything was said and done.
Cheap risk option: Andrew Bogut will get a lot of rest down the stretch, which means it's the Marreese Speights show off the bench. Speights has scored at least 14 points and five rebounds in three of his last four games, although the fourth was an epic one-point, one-rebound dud. With the Knicks unlikely to keep this game close, Wednesday would be a great opportunity to give Bogut some time off.
CASH GAME RANKS
This isn't necessarily an order of who will score the most fantasy points. Rather, the rankings are aimed to find the best price, value and production combo to help you win cash games, also taking into account potential ownership levels for each player.
PG
1) Darren Collison
2) Brandon Jennings (if Elfrid Payton sits)
3) Kemba Walker
4) Isaiah Thomas
5) Derrick Rose (if he plays)
6) Ray McCallum
7) Briante Weber
8) Jrue Holiday
9) John Wall
10) Kyrie Irving
11) Chris Paul
SG
1) Jimmy Butler
2) Evan Fournier
3) Courtney Lee
4) Nicolas Batum
5) Andrew Wiggins
6) Victor Oladipo
7) E'Twaun Moore (if Derrick Rose sits)
8) Kentavious Caldwell-Pope
9) Klay Thompson
10) J.J. Redick
SF
1) Jeff Green (if Paul Pierce sits)
2) LeBron James
3) Matt Barnes
4) Rudy Gay
5) Kevin Durant
6) Otto Porter
7) Alex Stepheson
8) Michael Beasley
PF
1) DeMarcus Cousins
2) Anthony Davis
3) Taj Gibson
4) Nikola Mirotic
5) Gorgui Dieng
6) Kevin Love
7) Marvin Williams
8) Dirk Nowitzki
9) Jonas Jerebko
10) Nene Hilario
11) Ryan Anderson
C
1) Willie Cauley-Stein
2) Enes Kanter
3) Jared Sullinger
4) Karl-Anthony Towns
5) Andre Drummond
6) Dwight Howard
7) DeAndre Jordan
8) Marcin Gortat
9) Steven Adams
As always, I'll do my best to update this article as news breaks throughout the day if at possible, so follow me on Twitter @christripodi for updates and advice leading up to first tip at 7 p.m.
[/cointent_lockedcontent]
//
//