Daily Fantasy Basketball Strategy: March 20, 2016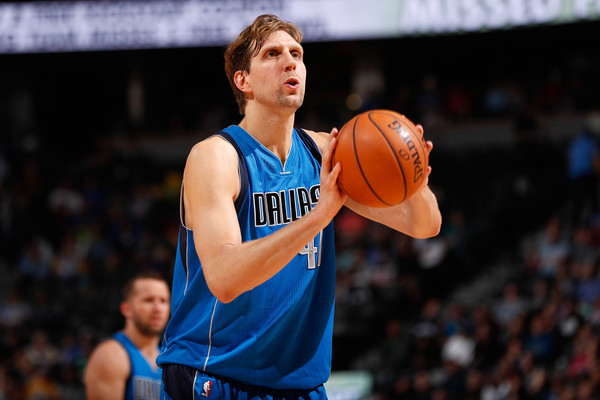 Sunday ends what has been probably the most balanced scheduling week in NBA history. Every night had between six and nine games, a remarkable feat that provides for plenty of DFS intrigue as well as no oversaturated slates. With six games in play Sunday, you'll have just enough to build top-notch DFS teams without the level of randomness that a 10-game night brings. To start, let's get Vegas' thoughts:
Vegas lines and totals
Portland @ Dallas (PK) – total of 213
Orlando @ Toronto (-10) – total of 210
Boston (-11) @ Philadelphia – total of 215.5
L.A. Clippers (-8) @ New Orleans – total of 212.5
Utah @ Milwaukee (-1.5) – total of 193.5
Sacramento @ New York (PK) – total of 213.5
A couple of high-scoring pick 'ems lead the way Sunday, with both Blazers-Mavs and Kings-Knicks looking like close, high-scoring games. The top five totals are all within a few points of each other, but three of the games have the potential to get ugly, though none project as a complete blowouts where starters don't play the entire fourth quarter. For the most part, Jazz-Bucks is certainly one to avoid with a total under 195.
POINT GUARD
[cointent_lockedcontent article_labels="basketball"]
Kyle Lowry – The Magic aren't great at stopping opposing guards. Lowry has been great at not being stopped this season, especially of late. Over his last four games, Lowry is averaging 29.5 points, 6.8 assists, 6.8 rebounds and 2.0 steals per game, and Orlando isn't the team to stop his roll. Lowry is one of the top plays on the entire Sunday slate.
Isaiah Thomas – If it weren't for Lowry, Thomas would be Sunday's top PG play against the 76ers. He does save you about $1,000 from Lowry, but the savings don't outweigh the differences in their projections for me, and I'll only be using Thomas if it's in a lineup with Lowry in it, not as a replacement. The possibility of a blowout exists, but I'm projecting Thomas to play into the fourth in this one.
Cheap risk option: The signing of Tim Frazier has put some of his minutes in danger, but Toney Douglas has still been playing at a solid level for DFS owners. Despite rumors he would return to the bench, Douglas started against the Blazers and hit value yet again. He has nice upside at his current price point, which should keep rising if the performances continues. Anthony Davis being out doesn't hurt him, either.

SHOOTING GUARD
Victor Oladipo – While the Raptors aren't an easy matchup, Oladipo has been too good lately to worry about a slightly negative opponent. Over his last three games, Oladipo is averaging 31 points, 4.7 rebounds, 4.0 assists, 2.7 blocks, 2.3 threes and 1.7 steals as a true stat-sheet filler. Without Elfrid Payton and Nikola Vucevic in the lineup, the Magic rely heavily on Oladipo, and he's come through lately.
DeMar DeRozan – You could say something similar about DeRozan as you can Oladipo, and he's not in a situation to let a slightly bad matchup swap you from playing him Sunday. Shooting guard isn't exactly flush with options, and the two at the top make for the best plays in cash games. It's doubtful Evan Turner, Avery Bradley or J.J. Redick kill you as cheaper options if you wanted to save, but they're unlikely to produce the same dollar-for-dollar value as Oladipo and DeRozan.
Cheap risk option: The Mavericks' new starting lineup has given Raymond Felton another shot at fantasy relevance this season, and he's come through big twice as a value play in his three recent starts. His price is still low and the Orlando defense has been lacking against shooting guards this season, giving Felton some additional cheap appeal Sunday.
SMALL FORWARD
Giannis Antetokounmpo – The Greek Freak draws a non-ideal matchup with the Jazz, but small forward is ugly Sunday with one-third of the teams playing using players at the 3 that aren't listed at the position for DFS purposes. Toss in two minimum-price starters and the pickings are slim. Antetokounmpo's price is finally close to where it belongs, but he still has a bit of growth in him, especially in his home arena where he's averaged six extra fantasy points per game this year.
Carmelo Anthony – I hate just listing the two most expensive players at a position, which I've now done twice in a row, but it's necessary on the wings Sunday. Top-notch value is tough to find, although my rankings at the bottom should at least point you in the direction of cheaper players who won't destroy your lineups. As long as Anthony plays through his migraine Sunday, he's actually my best SF bet on a dollar-for-dollar basis against the porous Kings. If he sits, Derrick Williams becomes a really nice value play against his former squad. I'd play whoever starts at SF for New York over Giannis, for sure.
Cheap risk option: There really isn't much going on at the bottom of the SF position, so if you're going super cheap, Dante Cunningham has a few things working in his favor. Cunningham should benefit from extra minutes with Davis injured, gains some extra usage—even if it's from a 9.2 usage rate to 10.2—and draws a good matchup with the Clippers. I'm not saying you're going to get 20 points out of him, but he may not kill you as a punt if the rest of your lineup thrives.

POWER FORWARD
Dirk Nowitzki – Nowitzki has been unreal of late with seven straight games of 20-plus points, five of which resulted in 40 or more fantasy points. Moving to center has given Dirk a few extra rebounds per night in his past three, but there's a chance he slides back to power forward with Chandler Parsons out. It'll be interesting to see who Rick Carlisle starts, but Dirk was rolling even before moving to the 5. I'm confident that continues against Noah Vonleh and Ed Davis.
Ryan Anderson – Sunday is a day to play two power forwards, even on sites that don't require it. If it weren't for Nowitzki's current hot streak, Anderson would be the second-highest projected power forward behind DeMarcus Cousins, but both players should crush their prices and push for 7x value. That's too much goodness to fade, and Anderson is going to see heavy minutes and increased usage with Anthony Davis on the bench while on a heater of his own. The Clippers' poor PFdefense won't slow him down.
Cheap risk option: Like SF, PF isn't so hot at the bottom, but Amir Johnson has a chance to give you a cheap boost. There's also certainly the chance he busts, but this play is strictly GPP-only as a result. Johnson has hit value in three straight and Kelly Olynyk's return has hurt Jared Sullinger more, although perception will be that he's also hurt Johnson. He should be somewhat low owned, even against the 76ers, and is always good for the occasional random explosion. Will it be Sunday? Who knows, but he's worth a cheap flier.
CENTER
DeAndre Jordan – The Pelicans are terrible at defending opposing centers, and that was with Anthony Davis getting almost half of his run at the position. Without the Brow, New Orleans will have to rely on Omer Asik and possibly Alexis Ajinca, which must have DJ foaming at the mouth in anticipation. Expect a big night from Jordan as easily the top projected center.
Mason Plumlee – Finally, a value recommendation for cash games! Plumlee is finally playing more consistent basketball over his past five games, averaging 10 points and 8.4 rebounds during that stretch after his price plummeted to season-low levels. He's less susceptible to reduced minutes in small-ball lineups than Portland's other bigs, which keeps his minutes safe, especially with Meyers Leonard injured. Plumlee is a great bet for a floor of 20 points, and he could go higher in a good matchup.
Cheap risk option: Another cheap Pelican recommendation is on the way to try and take advantage of Davis' absence. Omer Asik is minimum-priced around the industry, and he'll be needed to match up with DeAndre Jordan on Sunday. I'm not expecting the matchup to go very well for Asik, as you can see with my Jordan play above, but he should see enough minutes to hit value as a punt and let you stack your lineup elsewhere.
CASH GAME RANKS
This isn't necessarily an order of who will score the most fantasy points. Rather, the rankings are aimed to find the best price, value and production combo to help you win cash games, also taking into account potential ownership levels for each player.
PG
1) Kyle Lowry
2) Isaiah Thomas
3) Toney Douglas
4) Shelvin Mack
5) Chris Paul
6) Rajon Rondo
7) Isaiah Canaan
8) Jrue Holiday
9) Deron Williams
10) Brandon Jennings
SG
1) Victor Oladipo
2) DeMar DeRozan
3) C.J. McCollum
4) Evan Turner
5) Raymond Felton
6) J.J. Redick
7) Avery Bradley
SF
1) Carmelo Anthony
2) Giannis Antetokounmpo
3) Jerami Grant
4) Rudy Gay
5) Dante Cunningham
6) Gordon Hayward
PF
1) Dirk Nowitzki
2) Ryan Anderson
3) Kristaps Porzingis
4) DeMarcus Cousins
5) Nerlens Noel
6) Jabari Parker
7) Derrick Favors
C
1) Mason Plumlee
2) DeAndre Jordan
3) Jared Sullinger
4) Omer Asik
5) Robin Lopez
6) Jonas Valanciunas (if he plays)
As always, I'll do my best to update this article as news breaks throughout the day if at possible, so follow me on Twitter @christripodi for updates and advice leading up to first tip at 4 p.m.
[/cointent_lockedcontent]
//