Daily Fantasy Basketball Strategy: March 21, 2016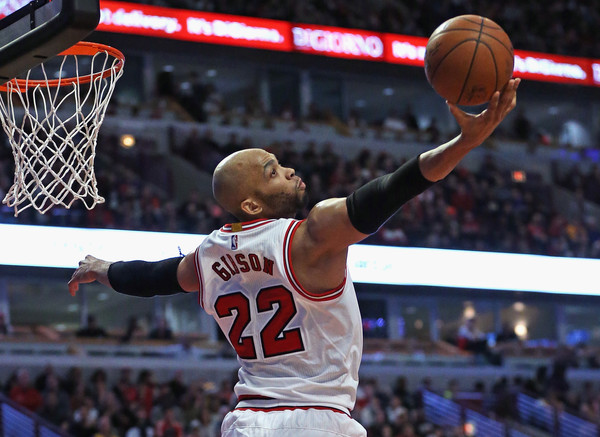 If you read my Sunday plays and followed me for Twitter updates, you probably did quite well in both cash games and tournaments; I know I did. Humble-brag aside—hey, everybody gets lucky, right?—we're back to nine games on Monday's NBA slate, so let's check out the Vegas lines to get started.
Vegas lines and totals
Philadelphia @ Indiana (-15.5) – total of 208.5
Denver @ Cleveland (-11) – total of 214
San Antonio (-6) @ Charlotte – total of 199.5
Milwaukee @ Detroit (-7.5) – total of 205.5
Orlando @ Boston (-8.5) – total of 214
Washington @ Atlanta (-6.5) – total of 206
Sacramento @ Chicago (-7) – total of 217.5
Golden State (-11.5) @ Minnesota – total of 231.5
Memphis (-2) @ Phoenix – total of 204.5
The 76ers-Pacers total isn't high enough for me to want to touch that blowout, but most of the other games are in play on a similar level. With every spread but two between six and 11.5 points, it's difficult to differentiate them from each other besides the two outliers. Grizzlies-Suns should be a close game, but it won't be that high-scoring, while Warriors-Wolves is likely going to get out of control. Other than that, Kings-Bulls is the top target followed by Magic-Celtics and Nuggets-Cavs on a lesser scale considering the increased blowout potential, although Cleveland has been playing down to opponents of late. Find my top plays of the day below.
POINT GUARD
[cointent_lockedcontent article_labels="basketball"]
Stephen Curry – When the Warriors are projected to score 120 points and win by less than 15, Curry is an option. It's really that simple. Minnesota has been slightly tougher on opposing PGs lately, as Ricky Rubio has stepped up on defense, but no single player can hold Curry down with his role in the Warriors' offense. Expect to see Curry play with the ball on a string often, hit a few 25-foot jump shots and disregard a decent defender on his way to the top fantasy score of the night, and one you should make room for in your lineups.
Ricky Rubio – Curry's counterpart should also be in for a nice night, as many point guards facing the Warriors have been this season. For all the talk around Curry, who is an improved defender from the time he entered the league, he still isn't great on that side of the ball and has allowed a few monster lines this season. The pace of this game plays right into the hands of Rubio, who thrives handling and distributing the ball in transition and at faster speeds, and he should top 35 fantasy points for the fourth time in his past five games.
Cheap risk option: An up-and-down player for pretty much his entire career, Dennis Schroder is currently enjoying a stretch of "up." After a three-minute clunker against Memphis, Schroder has hit value in four straight despite averaging just 20.3 minutes per game. There's always a chance of a Jeff Teague struggle or mid-game injury to give Schroder extra minutes, but he's proven he can pack a punch in limited time as well. And his price is as low as it'll ever be thanks to a recent dry spell.

SHOOTING GUARD
Victor Oladipo – Oladipo continues to ride high after his career game against the Cavs on Friday, as he's now scored at least 20 points in four straight games and five of his last seven. That scoring binge has come with his usual array of ancillary stats, and the Celtics have been relatively average defending the shooting guard position this year and over the past three weeks despite the presence of a healthy Avery Bradley. Expect another value-meeting performance with the potential for more from Oladipo, who is in complete control of the Orlando offense right now with Elfrid Payton still likely to come off the bench and Nikola Vucevic out with an injury.
Klay Thompson – The Warriors' spread over the the Wolves is a bit likely to turn ugly, but Minnesota's wing defense has been a struggle for much of the season and even more so lately, as the Wolves have turned up the pace significantly since beginning their youth movement. Thompson will benefit from all of the above and even if the game becomes a blowout after three quarters, Golden State will likely have hit the century mark by then, meaning Thompson should at least hit value. If it stays somewhat close, there's certainly big upside here.
Cheap risk option: The Grizzlies continue to be gutted by injury even with the return of Zach Randolph, meaning Vince Carter should still see at least 20 minutes off the bench in Monday's game. In three of his past seven games playing that many minutes, Carter has returned over 6x value, giving him really good upside against the Suns. Memphis is too thin as a team to afford to "rest" Carter against a bad team, and this game is projected to be the closest of the night.
SMALL FORWARD
LeBron James – James is generally a good-but-not-great DFS option, as he is usually a reliable option for points in the low-mid 40s without the 60-point upside he used to have, except in marquee games. While a matchup with the Nuggets doesn't count as a marquee game, Denver being without Danilo Gallinari has hurt their defense against opposing small forwards. LeBron should have his way with Philly castoff—how sad is that?—JaKarr Sampson and push for 50 fantasy points on the night.
Lance Stephenson – Unless Dave Joerger decides to stick with Ray McCallum in the starting lineup Monday, Stephenson seems likely to draw the start at the point against Phoenix. The return of Zach Randolph won't help his usage rate, but the other three projected starters—Tony Allen, Matt Barnes and Ryan Hollins—all are relatively low-usage players. There's room for Randolph and Stephenson to combine for a usage rate around 55 on Monday and dominate the ball, and opportunities against the Suns usually turn out well for backcourt players.
Cheap risk option: With Kent Bazemore back to struggling, Thabo Sefolosha has stepped up and is a very intriguing DFS option off the Atlanta bench. In his last five games, Sefolosha is averaging 11.6 points per outing with 5.8 rebounds, 1.8 assists, 1.8 steals and 1.4 three-pointers, hitting value in every game. The Wizards wing defense has improved as the season has gone along, but it still isn't good. Sefolosha is cheap enough where he doesn't need to crush to hit value, and he could be a nice cheap GPP surprise.

POWER FORWARD
Taj Gibson – Despite battling a few nagging injuries, Gibson has been very productive when on the court lately. He's beating his still-cheap price tag on a consistent basis and gets a dream matchup against the Kings' brutal defense against power forwards. The Bulls are tied for the second-high team total of the night and if Sacramento is its usual inefficient self, the rebounding opportunities will be plentiful for Taj.
Zach Randolph – Randolph returned with a bang Saturday, scoring 28 points and racking up an impressive triple-double against the Clippers. A matchup with the Suns, who play Alex Len at the 4 in their twin towers look, is actually more difficult on paper than the one against the Clippers, but Randolph's usage rate skyrockets from 22.3 to 31.7 with Marc Gasol, Mike Conley and Mario Chalmers out of the picture and he's maintained that usage even with Lance Stephenson on the court. Volume alone should carry Z-Bo to 40-plus fantasy points Monday.
Cheap risk option: On some nights, Amir Johnson could actually be considered as a cash-game play. With Gibson only about $1,000 more expensive, however, Johnson is relegated to the risk bin, which is where he should be anyway. A volatile player whose minutes are always at the whim of head coach Brad Stevens, Johnson has actually hit value in his last four games and, most importantly, he has played at least 23 minutes in each game. Stevens seems set on keeping Kelly Olynyk in a center rotation with Jared Sullinger rather than playing the pair together, and injuries to both Jae Crowder and Jonas Jerebko take away two of Stevens' options to spell Johnson at PF. It's weird to say, but Johnson seems somewhat safe Monday and always has the upside to score 30-35 fantasy points, especially against a team like the Magic.
CENTER
Andre Drummond – The Bucks started the season playing well against opposing centers, but they've regressed to what everybody expected of them as the season has gone along and teams have "solved" their defensive strategy. Their success came in spite of Greg Monroe, who isn't known as a good defender, and Drummond shouldn't have a problem topping 35 fantasy points Monday night. I have Karl-Anthony Towns projected just above Drummond, but the latter will cost you almost $1,000 less, making him the top center play of the night.
Tyson Chandler – Chandler posted a dud two games ago against the Jazz, but many a center has been stifled by the Stifle Tower, Ruby Gobert. Chandler has topped 35 fantasy points in the other three games he's played in his last four, however, and played 30-plus minutes in all of those with the only other center on the roster—Alex Len—starting at power forward. A plus matchup against the Grizzlies, who have struggled mightily against big men since Marc Gasol's injury, gives Chandler another chance to deliver a nice line for DFS players at a value price.
Cheap risk option: This is one of the obvious cheap plays of the night with Andrew Bogut doubtful, and Marreese Speights has a good opportunity to see an increased workload off the bench. Brandon Rush will almost assuredly start unless Steve Kerr feels the need to go big, which is highly unlikely, and keep in mind that Speights played just 11 minutes against the Spurs and scored four points with one rebounds. The Wolves are certainly not the Spurs, and they won't go small often with Gorgui Dieng and Towns entrenched in 30-minute roles, so Speights should see more run. Many people will likely punt with him in cash games, but I feel more comfortable playing him in GPPs.
CASH GAME RANKS
This isn't necessarily an order of who will score the most fantasy points. Rather, the rankings are aimed to find the best price, value and production combo to help you win cash games, also taking into account potential ownership levels for each player.
PG
1) Stephen Curry
2) Ricky Rubio
3) Kyrie Irving
4) Dennis Schroder
5) Isaiah Thomas
6) Derrick Rose
7) D.J. Augustin
8) John Wall
9) Brandon Knight
10) Jeff Teague
SG
1) Victor Oladipo
2) Klay Thompson
3) Nicolas Batum
4) Kentavious Caldwell-Pope
5) Zach LaVine
6) Andrew Wiggins
7) Monta Ellis
8) Evan Fournier
9) Vince Carter
SF
1) LeBron James
2) Lance Stephenson
3) Rudy Gay
4) Kawhi Leonard
5) Paul George
6) Thabo Sefolosha
7) Omri Casspi
8) Tony Allen
9) Doug McDermott
PF
1) Taj Gibson
2) Zach Randolph
3) Gorgui Dieng
4) Amir Johnson
5) Draymond Green
6) Bobby Portis
7) DeMarcus Cousins
8) LaMarcus Aldridge
9) Paul Millsap
10) Nikola Mirotic
C
1) Andre Drummond
2) Tyson Chandler
3) Jared Sullinger
4) Alex Len
5) Karl-Anthony Towns
6) Al Horford
7) Ian Mahinmi
8) Marcin Gortat
9) Marreese Speights
As always, I'll do my best to update this article as news breaks throughout the day if at possible, so follow me on Twitter @christripodi for updates and advice leading up to first tip at 7 p.m.
[/cointent_lockedcontent]
//
//