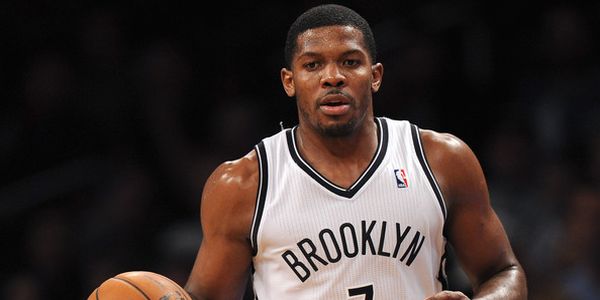 If you follow our DFS content, you know that I don't do basketball content. I do all our daily hockey content, and I do a lot of football and baseball content when those sports are in season. I can't bring myself to play DraftKings' last remaining NFL contest that includes the Pro Bowl, baseball obviously isn't in season, and hockey is off this weekend for the All-Star break. So I'm resorting to NBA contests.
Let me be clear, I don't follow hoops, so take every recommendation below with a grain of salt if you like. But all my picks for NFL, NHL and MLB are based off a numbers system, and that numbers system can easily be applied to basketball. That's why I'm running the system for today's five-game NBA slate.
The system takes a player's projection and compares it to the average of other players in action at that position for the day. I'm using numberfire.com's rest-of-season projections, which I've broken down to a per-game basis. I then adjust that projection based on matchup. To determine the quality of the matchup I'm using Hollinger's defensive efficiency stat. Then I compare how far above or below average the player's projection is to how far above or below average the player's price is. The further a player's projection is above average compared to their price, the better play they are. Because I don't have much specific knowledge of each player, I just check to make sure their minutes and production in recent games line up with their projection.
Make enough sense? OK, here we go.
Point Guard
By far the two worst defenses in action today are the Jazz in the Knicks, not necessarily in that order. Brooklyn is facing the Jazz and Charlotte is facing the Knicks, so players from those teams show up as good values at multiple positions. You obviously don't want to load up too heavily on players from those teams, so I'm going to try and limit my use of Nets to the guard positions.
That means Jarrett Jack ($6,000) is my favorite point guard play of the day. His price is about right for his normal level of production, but in this matchup I think he can beat his normal level of production. The Jazz are strange as a matchup because they allow the 4th most points per 100 possessions, but they don't grade out as an elite fantasy matchup for players at any specific position according to DraftKings' opponent rank. But Utah's point guards, Dante Exum and Trey Burke, are well below average defenders per basketball-reference.com's defensive win shares ratings.
Speaking of Trey Burke ($5,000), if you want to go cheaper at point guard, that may be your best bet. But going cheap isn't really necessary today. Most of my favorite plays at each position are mid-priced options, so pinching pennies isn't something you should have to do a ton of today. That said, Brooklyn is an average defensive team on a team level, and DraftKings has the Nets ranked 21st against point guards. The big problem is that Exum started on Thursday. But if Burke draws back in as the starter, he's an option.
It's kind of hard to figure out where to spend your money today, and if you want to do it at point guard, I'd do it with Michael Carter-Williams ($8,400). He delivered five times value last night and is a good option as long as Tony Wroten is out. But I hesitate a bit with him being on the road in the second half of a back-to-back and because he's got a tougher matchup tonight against Memphis than he did last night against Toronto.
Shooting Guard
This is a pretty thin position today with only two players priced above $6,000 and the most expensive option being $6,300. I'm going back to the Brooklyn well here with Joe Johnson ($5,800). Again, the Jazz give up a ton of points per 100 possessions, and they don't have any guards that grade out as good defenders. Aside from Johnson, it's hard to recommend anyone else at the position. Gerald Henderson ($5,000) grades out as a decent value and has a good matchup, but Lance Stephenson played five more minutes than Henderson last night. If you want to punt the position, O.J. Mayo ($4,200) has a good matchup against the Pistons and has consistently been scoring 20-25 fantasy points per game recently.
Small Forward
Now that we've moved away from guards, I'm going to move away from Brooklyn and start mentioning a bunch of Charlotte players against the Knicks who allow the second most points per 100 possessions. That starts with Michael Kidd-Gilchrist ($5,500). Without considering matchup, I'd say MKG's price tag is about right, but in this matchup, he's a value. Aside from being bad defensively on a team level, the Knicks are 22nd against SFs, and Carmelo doesn't add a ton defensively.
If you want to spend at this position, Melo and Gordon Hayward ($7,800) are your only options. The matchup for Melo is horrendous, so Hayward is your only option. It's an average matchup for Hayward against Brooklyn who is basically average defensively on a team level and 12th against SFs per DK. I don't think the value is necessarily there, but, again, you've got to spend your money somewhere today.
The one punt play I used in a few lineups was Tony Allen ($3,600). His minutes haven't really trailed off since Jeff Green came to town, but his production has declined. It's not an ideal play by any means and not really a necessary one, but the matchup is great and the price is good.
Power Forward
This is the position at which I am most inclined to spend. Your options to do that are Zach Randolph ($8,000) and Greg Monroe ($8,400). I'm going with the cheaper of those two options because Monroe has a pretty bad matchup against Milwaukee. On the other hand, Randolph has a good matchup against the 76ers who played last night. But I'm not into Zebo because the matchup is good enough to make him a value. I'm on him because a) you have to spend somewhere, and b) there aren't really any other options at this position.
The one other guy I kind of like here plays for Philly, and that's Nerlens Noel ($5,100). The problem is that Noel returned from flu-like symptoms just last night. He played well in his return, but on the second half of a back-to-back just after missing time with an illness I have to wonder how effective he'll be. I do have him in some lineups, but I'm hesitant.
Because I said I was going to mention a lot of Charlotte players, I should mention Cody Zeller ($4,200). He only played 18 minutes last night against the Cavs, but the Hornets got blown out, so none of their starters played a ton of minutes. Which may be a blessing in disguise for their game tonight. In the game prior to the Cleveland beating, Zeller played over 30 minutes and had 34 fantasy points with 12 rebounds, six assists and two blocks.
Center
Once again I'm leaning towards a Memphis big man in Marc Gasol ($8,500). Again, Memphis is playing Philly who played last night, and Philly ranks dead last against centers per DK. To hit 5x value Gasol would have to score 42.5 tonight, and he's averaging 42.4 over his last five games. I'm on board with him hitting that average again…at least.
And also again, I like a Charlotte big man, Al Jefferson ($7,200). Jefferson has been coming off the bench since recently returning from injury, but he has played well enough to be the starter again. Since they played last night and Jefferson played more minutes than starter Bismack Biyombo, I'm not sure Jefferson sees a big minutes boost tonight, so I lean towards Gasol here. But if Jefferson were to start, I'd like him quite a bit.
If you don't want to spend on Gasol and don't trust Jefferson, I'd go with Marcin Gortat ($5,500). There's a chance that Chris Kaman can't go for Portland, which would leave the Blazers very thin at the position.