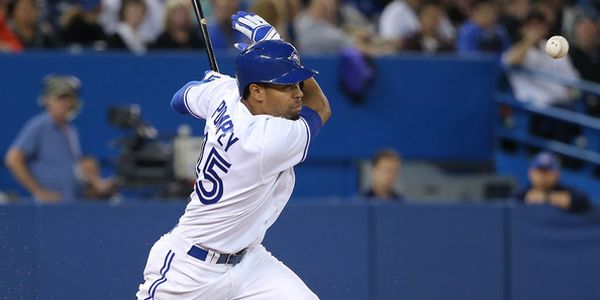 As it turns out, there is no position as volatile as center field. A part of that volatility comes in the form of picking which outfield position in which to put some players. Nine times out of ten it's easy. Most players play one position and stay there. However, that doesn't happen all the time. Then sometimes a mea culpa is necessary. You will see Corey Dickerson's name here amongst center fielders. He may still end up playing center if Charlie Blackmon is dealt, but he has played mostly in left field. A couple of readers called me on it and I'm glad they did. It keeps me on my toes.
In some leagues that doesn't matter. Some leagues simply list all outfielders together, so you could pick three center fielders to represent your team if you really love center fielders. If you are in those leagues then simply take a look at the overall rankings and choose accordingly. Even without these positional clarifications, we have some really wild differences for some of these players. It will pay to pay attention to your ADP (average draft positions) as we get closer to draft season.
Biggest Risers
Rusney Castillo— Boston Red Rox
Position Rise: +14
Overall Rise: +140
Right now, it is between Mookie Betts and Castillo in center for the Red Sox. With Hanley Ramirez slated for left field and Shane Victorino penciled in in right field, I wouldn't put too high of a bet on either Castillo or Betts, but that is just me. Throw in Allen Craig as another potential corner bat and you have a bunch of guys for only three slots. Castillo looked good in 40 plate appearances last season, but anyone can look good in that amount of time. If someone is nuts enough to bet this high of a pick on someone that isn't even guaranteed a starting spot, then go ahead and let them.
Dalton Pompey— Toronto Blue Jays
Position Rise: +13
Overall Rise: +46
This is not nearly as nuts as picking Castillo as a top ten center fielder because at least people are picking up Pompey as a backup, and at least he's guaranteed to get the first crack at the job. In the minors, he was a middling offensive player until this past season. Granted, he produced on three different minor league levels, but overall he has no elite skills. He is a good base stealer and being a good base stealer can make you look like a good fantasy prospect. However, he will have to prove it at the big league level before he becomes worthy of a pick.
Adam Eaton— Chicago White Sox
Position Rise: +9
Overall Rise: +93
So much of fantasy baseball is about the kind of support your teammates can give you. Two of the five offensive categories are team based numbers. In Eaton's case, the experts are banking on the production that Adam Laroche and Melky Cabrera will add to their offensive attack. As a leadoff type hitter, Eaton needs help to really boost your team in the run scoring department. This isn't so much a reflection that he is better as much as the fact that his team is better.
Biggest Sliders
Arismandy Alcantara— Chicago Cubs
Position Slide: -9
Overall Slide: -116
Keep in mind that the expert draft took place before Dexter Fowler was traded the Cubs. If Alcantara even makes the final roster, his stock is completely in the toilet. Ironically, it might be elevated eventually because he could become eligible in the infield and the outfield if the Cubs choose to use him as a super sub. That makes him the perfect waiver claim down the road, but on draft day I'd steer clear.
Austin Jackson— Seattle Mariners
Position Slide: -9
Overall Slide: -109
Jackson is the mirror image of Adam Eaton. Jackson himself is really no different than the player that was in Detroit. Yet, when you move him into a pitcher's park with a team with limited offensive potential you see a dip in his value. Mind you, the Mariners aren't a terrible offense. They simply aren't the Tigers. I think Jackson is actually somewhere between where ESPN had him and where the experts picked him. He's a good reserve fantasy outfielder. It remains to be seen how much Nelson Cruz will add to the Mariner attack.
Coco Crisp— Oakland Athletics
Position Slide: -6
Overall Slide: -42
Fangraphs ran a piece on the Athletics offseason. Essentially, it forwarded the idea that the Athletics were trying to get as many league average players as possible. The theory goes that two or three average players were worth more than one really good one. So, in theory the lineup may actually be deeper after trading away the likes of Jeff Samardzija, Derek Norris, and Brandon Moss. The experts aren't buying that apparently, but they also made their draft before they added Ben Zobrist. Who knows, maybe they will be more productive next season than last. It will be interesting to watch.