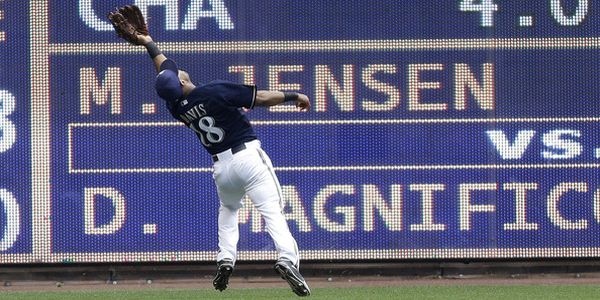 At some point in the fantasy world we reach a fork in the road. As Yogi used to say, "when you reach a fork in the road, take it." We have that road here as it pertains to fantasy outfielders. Different platforms treat outfielders differently. Some leagues treat them generically and others are position specific. I hate to add extra work to your preparations, but we will look at them in terms of positions. If you want to rank the outfielders generically, you can look at their overall ranks and plan accordingly.
Left fielders are easily the weakest among the outfield positions. We've used rosterresource.com to determine which position to put them at. Most of the time it is natural fit, but some teams are shifting guys around, so we will put them where they will most likely be put. Obviously, if you are playing in a position specific league, it pays to have guys that are eligible at more than one outfield position.
Biggest Risers
Yasmany Tomas— Arizona Diamondbacks
Position Rise: +4
Overall Rise: +52
Jose Abreu certainly made anything possible for fantasy players. What's interesting is that rosterresource.com has Tomas listed as a third baseman. However, he is listed as an outfielder here. Once he gets third base eligibility he will be a very interesting prospect. The experts are gambling that he will be closer to Abreu than say a Dayan Viciedo. As for me, I'm not making any predictions.
Khris Davis— Milwaukee Brewers
Position Rise: +3
Overall Rise: +31
The question is whether we will see 2013 or 2014 Davis. He produced more power last season, but it came at the expense of his batting average and on base percentage. His BABIP did go from .293 to .275, but that wouldn't explain all of the drop off. If his BABIP returns to league norms he will be a decent reserve fantasy outfielder. Since it will be his second full season we can probably expect some progress as the experts have.
Rajai Davis— Detroit Tigers
Position Rise: +2
Overall Rise: +26
Officially, rosterresource.com has Davis listed as the fourth outfielder in Detroit. This has happened before. Anthony Gose doesn't exactly look like a world beater in center field, so Davis could get his plate appearances in anyway. If that happens he will likely get his 30+ stolen bases as he has almost every other season. Depending on your league, he could actually serve as a regular fantasy outfielder. I don't know if I'm comfortable taking a guy that won't begin the season as a regular, but some people have more faith than me.
Biggest Sliders
Curtis Granderson— New York Mets
Position Slide: -5
Overall Slide: -70
This one is somewhat difficult to explain. Yes, Granderson hasn't been a fantasy force for sometime, but things seemed to stabalize in the last month of the season. It also isn't surprising to know that his numbers on the road were much better than the numbers at home. At least he was healthy last season, but he is now two years removed from the 40+ home run power he exerted across town. So, some slide makes sense, but at this rate he will go undrafted in most leagues.
Dayan Viciedo— Chicago White Sox
Position Slide: -5
Overall Slide: -54
Viciedo has lost his spot with the White Sox. Trade rumors have been swirling all around Viciedo all winter and if a trade occurs he may become relevant again. Viciedo is what we would call an accumulator in the business. Real baseball evaluations would question his viability, but he seems to produce home runs, runs, and RBI at a decent enough clip to be a fantasy factor. Depending on his situation, he might be worth a look late in the draft. As of right now, I would likely pass as the experts did.
Carl Crawford— Los Angeles Dodgers
Position Rise: -1
Overall Slide: -27
Remember 2010, it was a kinder, gentler time. It was also the last time that Carl Crawford performed like a fantasy regular. Following the season, he signed a huge contract with the Red Sox and the rest as they say is history. The numbers are similar on a percentage basis, but he just hasn't been able to stay on the field. I don't think another year is going to make him any healthier.