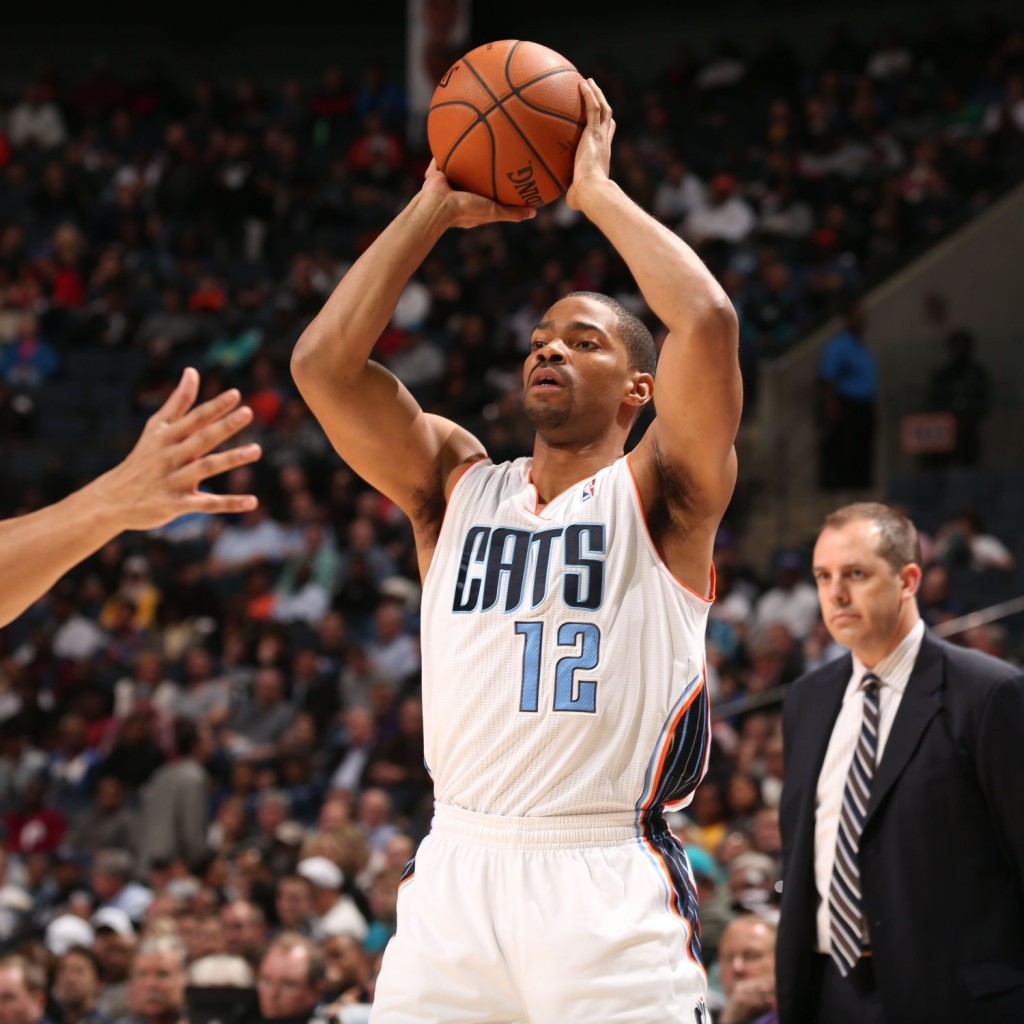 Gary Neal
For a guy with a reversible name, Gary Neal has nearly experienced it all in the last 12 months of his NBA life. After coming up big for the Spurs in the NBA Finals against the Heat last season, he wasn't re-signed and instead was given a respectable $6.5m two-year deal with the Milwaukee Bucks. Everyone's seen how bad the Bucks have been – they had set out with a firm foot in the non-tanking square, but that went out the window when it was apparent this was no ordinary 'bad' East team.
As The Starters' Taco Trey Kerby has mentioned multiple times, how bad must this team be to STILL be the worst team in the East despite the 76ers having not won a game since beating Boston by a single point in 2007 late January?
Neal survived the nuclear disaster that is this year's Bucks, managing to not only go to the Bobcats (who knew that would be an upgrade!?) and contribute, but thriving as a gunner off the bench for a team bereft of consistent outside shooting. Ben Gordon was meant to be 'that guy' for the Bobcats, but he's played the same amount of NBA minutes in March as I have, and he was really put in his place when he was released after the deadline for being active for the playoffs.
Back to Neal. He's found his niche off the bench, drilling the outside shot to the tune of 1.7 threes per game at a ridiculous 53% – while shooting 47% from the field and 96% (26-27) at the line. When push comes to shove and Steve Clifford begins tightening his playoff rotation, Neal is the sort of player who will get 28-30 minutes over Chris Douglas-Roberts down the stretch as the Cats wrestle for playoff seeding.
His ability to spread the floor for Al Jefferson (wow he's been awesome after that sloppy start) to operate means he has to play, and the way he's worked with Luke Ridnour in the Cats second unit means Kemba Walker isn't hoisting 20+ shots a night trying to keep his team afloat from the back-court.
MKG couldn't shoot a tennis ball in one hand through a hula hoop in the other, and Gerald Henderson for all his abilities isn't a shooter either – which leaves Neal as the lone gunman.
Take a gamble on Neal in roto leagues if you need threes without the turnovers, and in daily leagues where he likely qualifies at PG and SG, at a fraction of the cost of expensive SGs who don't really give you much bang for your buck…cough Eric Gordon.
Brian Roberts
No not that long time second baseman for the Orioles (now Yankees in case anyone cares), this one is delivering bonus fantasy stats for a team that has been decimated by injuries to both their back and front-court rotations.
Roberts showed glimpses last season, filling in admirably as he started five games and produced 12.6 points, 3.2 rebounds, 1.4 threes and a massive 10 assists per game. His field goal percentage was awful at just 37%, but he was perfect at the charity stripe which seems to be a theme this season also.
He's shooting a ridiculous 94% from the line this year, making 99 of a possible 105 shots from the stripe and it never hurts having a knock-down guy to help boost daily free throw percentage when someone wants to attack it with bricks.
With the added ball handler in Tyreke Evans, Roberts is seeing far less opportunities to rack up assists, as his per-36 minute assists per game has dropped to just 5 per-36 minutes – a low number for a starting point guard in the NBA. He doesn't hurt you in turnovers though, as he averages just 1.8 per game as a starter, despite averaging 29.1 minutes per game – something only George Hill can say in terms of starting PGs this season.
Over the Pelicans' last 6 games he has played 30.8 minutes per contest, while averaging a very solid 13.8 points, along with 3.2 assists and 47/95 splits. Sure, you'd like the threes and steals to be more than 0.8 per game each, but for an end of the bench guy he is not going to hurt you.
It also helps the Pelicans have gone 4-2 in this stretch and Roberts literally has no real competition for starting PG duties until the end of the season, so he's going to play 30 minutes every night. Anything more than 32 minutes a night is gravy – he's played 9 games this season of at least 32 minutes, averaging 15.7 points, 3.1 rebounds, 4.3 assists, 1.4 threes and 48/92 splits in the process – that's money. Or gravy, depending what you like better.
Enes Kanter
I kanter remember a more frustrating young big man in fantasy basketball – though it's not entirely his fault.
This guy is a legit beast inside and has shown stretches of being a legit fantasy C, but his style simply doesn't mesh with the Jazz's other franchise big man, Derrick Favors.
Kanter showed more than a glimpse at his fantasy potential last season, particularly when he played a minimum of 25 minutes in a game. He did that just 5 times last year, but he put up averages of 16.4 points, 10.6 rebounds and 56/89 splits – such a shame real basketball gets in the way of fantasy basketball isn't it?
Ty Corbin has seen what most of us see, Kanter and Favors simply aren't a good match on the court together, as a large proportion of their skill-sets overlap – both work inside, neither has an outside shot, and both do their best work crashing the glass getting put-backs and dunks/lay-ups.
The Jazz have been awful for the majority of this season, but they have been playing their young guys a lot recently, particularly Kanter and Favors – as both players are possibly being showcased for the off-season, when the team may need to decide which one stays and which one gets moved along.
Kanter has started 27 games this season, averaging 14.6 points, 7.7 rebounds, 1.1 assists and 50/73 splits – not exactly endorsement worthy fantasy stats. However, if you're after rebounds over the last month, Kanter may be your man.
Over the Jazz's last 9 games, he's only started twice but he's still managed to produce 10.7 rebounds per game, in just 28.5 minutes per night. Those figures aren't readily available on waiver wires and while his field goal percentage has been just 43% in that period, ironically that comes down to his two starts where he shot just 8-28 combined – so he's been 49% in the 7 games off the bench in that stretch.
He isn't the sexy sleeper pick he was going into the season, but because he somewhat disappointed many fantasy managers early on, chances are he's likely available in more leagues than he should be and he's a nice play especially against teams with bigger front-lines like the Clippers and Portland.
Follow Sam on Twitter @macetastic and feel free to ask any NBA related questions, whether fantasy or reality.