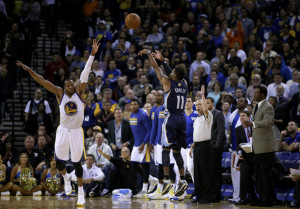 Tuesday's NBA Action only gives me four games to preview, so I'm going to dig a little deeper in each game. I can't give you just 4-5 players total and call it a wrap can I?! These small nights can be a lot of fun and really show some depth from the big winners.
New York at Charlotte (-1)            Total: 188
Tyson Chandler should be back tonight from an upper respiratory infection and that's great news for fantasy owners. His price has dropped down to $4,500 on Draftkings and has nice upside against the Bobcats. The Bobcats are giving up 46 fantasy points per game to the center position, which means Chandler is a high risk play, but has high reward if he's feeling better by game time. Please keep an eye on twitter and see if he will be on a minutes' restriction for the game. If Chandler can't play, then look at Kenyon Martin as a value play.
Kemba Walker faces a Knicks team tonight that he has played very well against this season. He is averaging 25/4/5 against them on the season and is back at home tonight where he excels. Walker is averaging 3.5 more fantasy points at home than on the road and has better field goal and 3 point percentages as well. The matchup is great for Kemba and he's playing great right now too. In his last four games, he's averaging 23/3/6/1, which equates out to 40 fantasy points. Lastly, if you watched the Knicks game last night then you saw a tired team that Goran Dragic had a field day with (28/8/4/1/1).
Sacramento at Indiana (-10.5) Total: 194
Isaiah Thomas has some numbers going against him in this matchup against the Pacers including the spread and the fact Indiana ranks 6th lowest fppg against point guards. With that being said, his price makes him worthy of the risk tonight. The way that Thomas and Cousins are playing right now, it's certainly possible for this game to stay tight. Thomas is averaging 19/4/7/2 in his last four games and has put up 40+ fantasy points in 7 of his last 10 games. Thomas has thrown up 13 shots in each of his last ten games and it's that kind of aggressiveness that will keep making him a great option for $7,400.
Lance Stephenson goes up against the 23rd ranked defense in terms of points allowed to shooting guards tonight. There are a lot of words to digest in that sentence, but essentially it means this: Stephenson is going to eat tonight. He's averaging 5.2 more fppg at home than on the road and gets to go for his third straight double double against the Kings. Stephenson does a bit of everything, but his shooting isn't the greatest. He's only averaging 13 real points per game this season. The Kings allow the second most real points per game to shooting guards which means he should be able to excel in that aspect tonight.
Oklahoma City (-1) at Memphis Total: 195
If you aren't paying attention to what Mike Conley is doing right now then you're going to lose your fantasy matchups tonight. Conley has been a scoring machine scoring 21, 31, and 30 in his last three games. He's shooting at a very efficient rate right now (51% from the field), and has even averaged 8 assists during this stretch. If he continues to add steals to his stat line then he's a legitimate threat for another 50-fantasy point night, which he has done in 2 of his last 3 games.
Courtney Lee is a relevant option tonight as long as Tony Allen remains out for the Grizzlies. Lee is priced at $4,100 and is a very solid cheap option as he has gone for 26.75, 19.5, and 21 fantasy points in his last 3 games. The nice part about him is that he doesn't rely on scoring to provide fantasy points. In his last 3 games, Lee is averaging 11/3/2/1/1. This doesn't seem like a big deal, but for a cheap player, it's nice to be able to see someone do the other stuff in case his shot is off.
Pay attention to Kevin Durant's status tonight against the Grizzlies. If he sits out then that makes Jeremy Lamb a viable option in the 4k range. He's averaging 22.3 fantasy points in his last five games while only playing 26 minutes per game.
Cleveland (-3.5) at LA Lakers Total: 203
Anderson Varejao should be in everyone's lineup tonight against the Lakers. The Lakers give up the most fantasy points to centers and that includes 15.8 rebounds per game. Varejao is a rebounding machine and if it wasn't for his last game being a blowout and only playing 26 minutes then he'd have double digit rebounds in 8 straight games. There is a chance that Pau Gasol doesn't play tonight and if that happens then Varejao would feast on the boards even more.
Kendall Marshall has taken over as point guard for the Lakers pretty well averaging 10 points, 3 rebounds, and 7 assists per game. Those numbers are pretty solid considering he's averaged 27 minutes per game on the season. In his last 5 games though, Marshall is averaging 38 minutes a game and a healthy stat line of 13/5/11. Nobody has ever accused Kyrie Irving of being a good on-ball defender, which is evident by the fact that the Cavs given up the fifth most fppg to point guards.