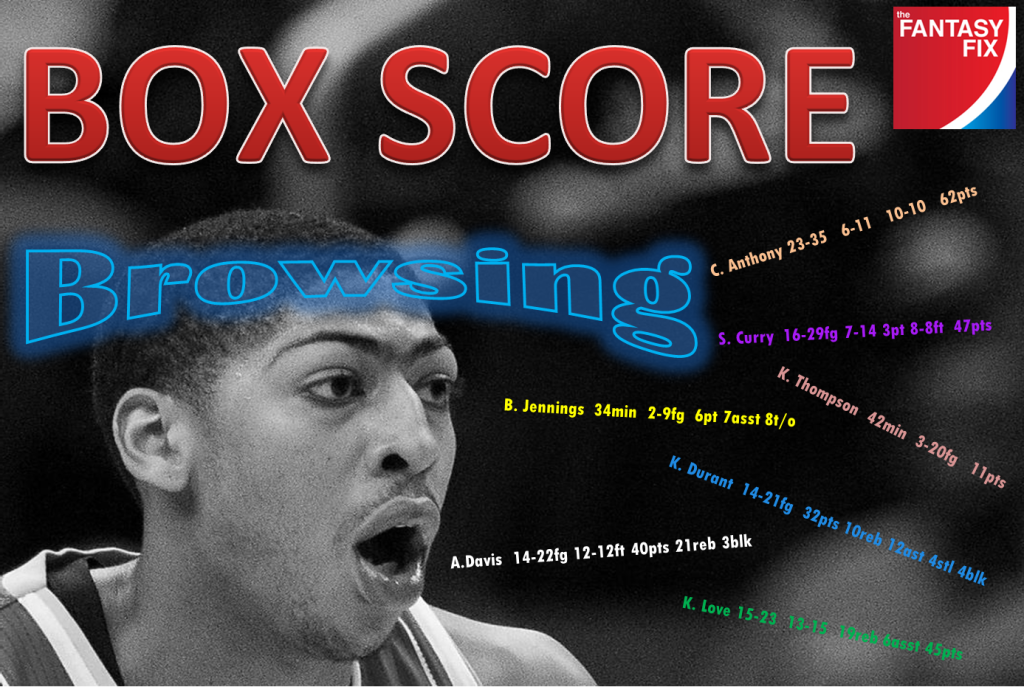 James Harden is doing ridiculous things on the court this season.
Already atop the mantle as the best shooting guard in the league – although Klay Thompson may have something to say about it – Harden's managed to build on his already devastatingly good fantasy game.
His career trajectory is on the up, and he's hitting career highs in points, rebounds, assists, steals, blocks, threes and free throw percentage. Already with two All-Star births under his belt, he is in line (along with that Klay guy) to replace Kobe as a starter for the first time for the upcoming game in New York, a much deserved nod to a guy who's numbers are as note-worthy as his beard.
Since being reamed at home by the Warriors back on January 17th while being held to just 4-15 shooting by Thompson, Harden has silenced any doubters about his mental fortitude.
He promptly responded to that 25 point loss to the Warriors by dropping 45 points (on just 18 field goals) against the stingy Indiana Pacers. That was just the start, as he proceeded to rattle off three straight games with at least 33 points, throwing in his typical bounty of counting stats. In this four game tear he has averaged 37.0 points, 4.8 rebounds, 7.0 assists, 2.8 steals, 0.8 blocks, 4.3 threes and a team-carrying 54% shooting from the field and 88% from the line (on 14.5 attempts per!).
Harden's four game stretch of scoring at least 33 points while attempting 20 or fewer field goals and making 80% of his free throws is one of my infamous 'made up streaks'. No other player besides Deron Williams (3, 2009) has had more than two since 1985-86 – and that includes elite scorers like Michael Jordan, Kobe Bryant, Allen Iverson, Dominique Wilkins, Larry Bird, Kevin Durant and Carmelo Anthony. Crazy stuff. Oh yeah, the Rockets are 18-3 when he scores at least 30 points and just 14-11 when he doesn't, so his scoring is kind of important to their success, which always bodes well in fantasy circles.
I could go on all night and gush about the numbers Harden is putting up this year. The discussion between who goes number one overall next season might not be as clear-cut as Anthony Davis and a healthy Kevin Durant.
Harden will warrant attention, as he's already had some historically great moments (yes three separate monsters!) this season.
I won't re-hash that weirdly massive four-team Dwight Howard deal that seemed like something dreamt up in a basketball forum (RealGM, go there it's awesome), but it goes without saying the Magic didn't make out too badly.
Orlando have had a decent run of franchise centers, delicately skipping over The Greg Kite Experiment (potential band name?) and focusing on the two land masses, Shaquille O'Neal and the consistently annoying Howard.
Vucevic is the next in line, and while nowhere nearly as physically dominant as the previous two perennial All Stars, Vooch is no slouch – especially in fantasy – where unlike Shaq and D12, he doesn't eviscerate any hope of winning a rotisserie title by sinking your free throw percentage.
He's been a solid producer since becoming a full-time starter in 2012-13 (winning yours truly a league title nearly on his own), averaging 13.6 points and 11.5 rebounds over the past two seasons combined – good numbers, but not the 'elite' center you'd build your team around ideally.
Not this season. He has improved both his scoring and free throw percentage for the third straight season, culminating in him being ranked the 21st best player in fantasy this year, per Yahoo rankings.
He has been truly elite over his last nine games, averaging 25.7 points and 11.9 rebounds to go along with awesome shooting percentages of 59% from the field and 82% from the line.
As always, the knock with Vucevic is that he doesn't do enough on the defensive end. He has just four blocks in that nine game stretch, supporting that low number with just six steals. He is what he is though and you could do a lot worse than Vucevic in terms of keeper quality players at center, as he's been the 9th best player over the past week, per Basketball Monster.
Three post Brandon Jennings' starts, two very strong fantasy showings.
Sure, the Pistons have lost all three games, but Augustin is no stranger to losing games that he's started. Having spent his first four seasons with the Charlotte Bobcats, Augustin was seen as the successor to Raymond Felton (yes, for you younger fantasy fans he was a top 40 fantasy player as recently as 2011), but once Kemba Walker was drafted the writing was on the wall for his exit.
After Charlotte, Augustin bounced from Indiana to Toronto (bounced? More like fell ass first into a building site collecting every brick along the way) and then Chicago last year, where he finally solidified a role in the league as a three point gunner off Tom Thibodeau's bench. He shot erratic at times, though had a number of massive games with his value lying in his threes, assists, points and free throw percentage.
I'm going to detract from my usual stat-ridden drivel for a second – if you want focussed, literate and proper fantasy writing go read Zack's bit on Augustin in his Waiver Wire Fix piece. I have a number of friends (honestly I do) and they're fantasy NBA fans rather than real NBA fans. That is to say, they will very rarely – if ever – watch a quarter of an NBA game, let alone watch enough of a game to even say 'DJ Augustin is not a playoff calibre starting point guard'. But fantasy is different than reality, so for argument's sake just look at his numbers as you're playing fantasy basketball and you're very unlikely to be in a pseudo-league that counts team wins as a category.
His stats last year as the Kirk Hinrich-Derrick Rose insurance policy slash sometimes starter meant Augustin landed on a lot of fantasy radars going into this season, as many peeps in the know felt Brandon Jennings' (very sad end to a remarkable in-season turnaround for him) hold on the starting point guard spot this season was tenuous at best.
Fantasy basketball is a fickle thing, but with Augustin knocking down his shots and setting team-mates up, Stan Van Gundy has no other real option at point guard, so expect DJA to be a solid top-60 player the rest of the season.
Layups
The three point guard line-up may not be winning over Eric Bledsoe and Goran Dragic, but Thomas is proving to be a real threat off the Suns bench any time he gets significant minutes. With an impetus on scoring first rather than setting up team-mates, Thomas has been dynamic in terms of scoring in bunches and carrying the Suns second unit.
Gerald Green has been a little off this year, particularly recently as his minutes have dropped while the tri-point guard unit have all stayed steady (bar Dragic's benching for the technical last week).
Thomas is fresh off a four game scoring binge, scoring at least 22 points in each game while burying 15 threes and making 17 out of 18 free throws (94%). The Suns are 10-4 when he scores at least 20 points, so they'd be wise to get Thomas open shots when he is on the court.
Kobe Bryant's season came to a crashing halt, leaving a collection of misfit combo guards to attempt to shoulder (too soon?) the scoring load left by his exit.
But which one out of Nick Young (hurt, headcase), Wes Johnson (not a scorer, journeyman), Wayne Ellington (not proven, journeyman), or even Jeremy Lin (not liked by Coach Byron Scott, dangerously close to journeyman) will step up?
Right on cue, Ellington exploded for 28 points against Washington, capping off a nice little four game stretch (three starts) where he averaged 16.0 points, 4.5 rebounds, 2.3 assists, 1.3 steals and 1.8 threes. Throw in equally impressive 54/83 shooting splits and this guy might even stick for more than 10 games.
He's had starts on five different teams during his relatively short career, all with a range of success. So tread carefully but there's always a chance he just fits the type of player the Lakers want riding shotgun in their tank this season.
Go and get this guy, just for the sheer pride of owning the guy with the coolest name in the NBA (sorry Luc Richard Mbah a Moute).
Not only has he started out with a bang, he's somehow continued to produce and what's more the Knicks are winning when he plays.
He's a classic tweener guard – point guard size with a shooter's mentality, but the days of the pass first point guard are seemingly dying with Ricky Rubio and Rajon Rondo.
Galloway has just been re-inked by the Knicks, and you can expect more of his scoring, threes and solid rebound and assist numbers. Since Galloway became the starter, the Knicks have gone 4-1, in no small part to the undrafted rookie's stellar play. He's averaged 15.2 points, 5.8 rebounds, 3.2 assists, 1.4 steals and 2.0 threes per night, with a respectable 48% clip from the field and just 1.0 turnover a night.
Come on New York, you've had Linsanity – is it time for Langsanity? Gallowmania? Gallirium?
As always we welcome your feedback, so feel free to hit me up on Twitter (@macetastic) and I'll do my best to reply to any comments.
Big ups to the amazing Basketball-Reference, for all the links and for de-railing me so often, all in the name of research.