In the Week 20 edition of fantasy baseball 3×3, we're snatching up Welington Castillo, moving on from Joc Pederson, and hanging on to Chris Davis.
There are plenty of waiver wire columns out there that provide an exhaustive list of the most added players in fantasy leagues. This isn't one of them. Here, we'll run down a few of the most interesting players for fantasy owners, with perspective on who deserves your attention, who deserves your patience, and who deserves to go straight to bed without dessert.
Any questions, thoughts? Hit me in the comments or on Twitter.
3 TO CATCH
Players to be picked up; available in most standard leagues
Welington Castillo | Arizona Diamondbacks | C
If you play in a 12-team, single-catcher format, somebody in your league is almost certainly starting a below-average hitter at catcher. By wRC+, there are only 11 catchers who've managed even league average production over at least 250 plate appearances this season. Welington Castillo doesn't quite make the cut (he's made 248 plate appearances heading into Sunday's action), but if he was on that list, he'd rank fourth, with a 120 wRC+ that'd trail only Buster Posey, Yasmani Grandal, and Francisco Cervelli.
And that's pretty much all the information you need to justify adding Castillo. This season's home run production has outstripped anything he showed earlier in his career, but I wouldn't call it unjustified. He did flash some pop as a young'un, and his 300-foot average batted ball distance trails only Grandal among catchers and ranks 24th overall, per Baseball Heat Maps. There's nothing cheap about the homers he's hitting.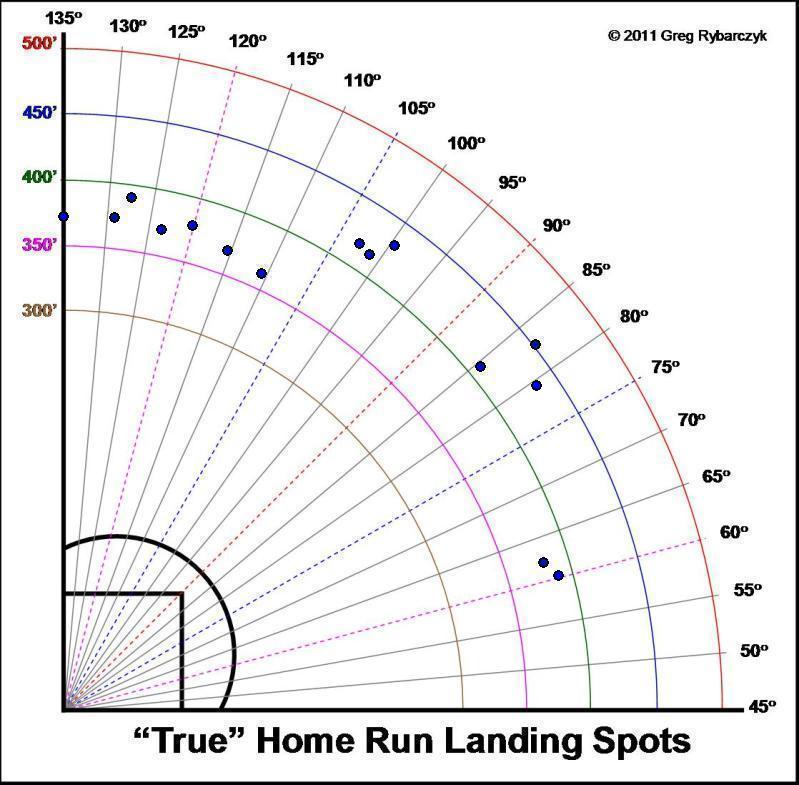 Castillo is unproven as a major league commodity, but with the dearth of positive options available at catcher, he'd be an upgrade for quite a few owners.
To pick him up, I'd drop: Derek Norris, Wilson Ramos, Yadier Molina
Rubby de la Rosa | Arizona Diamondbacks | SP
Rubby de la Rosa hasn't quite performed up to the expectations that I set for him earlier in the season, but as we near the time of year when a player's ability to contribute in the right combination of roto categories trumps his all-around value, he offers a very interesting package.
Typically, ERA and WHIP go pretty much hand-in-hand. If you've gotten yourself in a position where you can make progress in WHIP, but can't pick up many points in ERA, it's awfully tough to find a solution tailored to your problem. So far this season, 25 of the top 30 pitchers in WHIP also rank among the top 30 in ERA. Sure, you could go after one of those guys to solve your WHIP issues, but you'll end up paying for an ERA boost that you may not actually need.
The only qualified starters to post a top 30 WHIP without a matching ERA are Corey Kluber, Chris Sale, Carlos Carrasco, Dan Haren, and Mike Leake. You won't get a discount on Sale or Kluber, and Leake is injured, so we can take those three off the table. Haren could be a fit, but he'll give you literally no value outside of WHIP and will seriously hurt your ability to accumulate strikeouts. That leaves Carrasco as the most enticing option. He can certainly be had in a trade, but if you're playing in a league with savvy owners, you'll likely be required to give up a good bit of value; he's been a bit unlucky this season and last few starts have all been excellent.
De la Rosa isn't anywhere near the pitcher Carrasco is, but if you're WHIP-needy and not inclined to match Carrasco's trade value, de la Rosa makes a nice compromise. His ERA will continue to ride high on the back on his ridiculous 1.58 HR/9, but de la Rosa doesn't give up a ton of baserunners otherwise, and he's got the stuff to rack up significant strikeouts down the stretch. Per FanGraphs, he ranks eighth in baseball in Z-Contact%, which is typically a harbinger of strikeouts. Seven of the top nine pitchers on that list also rank in the top seven in strikeout rate; only de la Rose and knuckleballer R.A. Dickey have failed to convert that level of elite bat-missing ability into elite strikeout ability.
Perhaps de la Rosa will never put it together, but man, there are a lot of tools here. If you're looking for help in strikeouts and WHIP, he's worth a look in deeper formats.
To pick him up, I'd drop: Matt Cain, Kyle Gibson, Alfredo Simon
I know that the Red Sox have publicly stated that Koji Uehara's replacement as closer will be selected based on nightly matchups, but I expect there'll be a clear winner in this timeshare.
At a glance, I can see why the Red Sox would line up the committee the way they have. While both Junichi Tazawa and Jean Machi are right-handers, Machi does seem to profile as an opposite platoon guy. He's struggled against righties throughout his career; his FIP is almost a full run better against lefties, mostly due to an incredible ability to eliminate home run power; his strikeout and walk rates are actually a little bit worse against left-handed hitters. This isn't totally unexpected for a pitcher who relies heavily on a changeup (or splitter, depending on which categorization you prefer), but it does make Tazawa the clear choice against righty-loaded slates. His strikeout rate, walk rate, and FIP against righties are all better than Machi's.
Unfortunately for Machi, this trend continues against left-handed hitters. Though Tazawa is better against righties, his weaker side is still superior to Machi's relative strength. The only thing giving Machi an advantage is the fact that he's maintained a .230 career BABIP against lefties, which lags nearly 100 points below Tazawa's .325 mark. And given that Machi actually generates significantly less weak contact against lefties (13.2% vs. 18.8%), I can't expect that the gap will remain that large in the future. So even though Machi has the sort of platoon split that would seem to make his manager's decision easy, his strong side can't match Tazawa's all-around skill. It will be a timeshare, but Tazawa will eventually earn the lion's share of the save chances.
To pick him up, I'd drop: Drew Storen, Jake McGee, Brad Ziegler
3 TO CUT
Players to be traded or dropped, depending on the depth of your league
Joc Pederson | Los Angeles Dodgers | OF
After setting the National League ablaze in the first couple of months of his career, Joc Pederson is finally working through some growing pains. Since pounding his way to a .230/.364/.487 line in the first half, he's tumbled to a .171/.324/.280 line in the second half. Pederson has maintained a very credible Adam Dunn impression in terms of plate discipline, but the power that made his poor batting average tolerable has evaporated. Per Brooks Baseball, his batted ball speeds are down across the board, notably against hard stuff.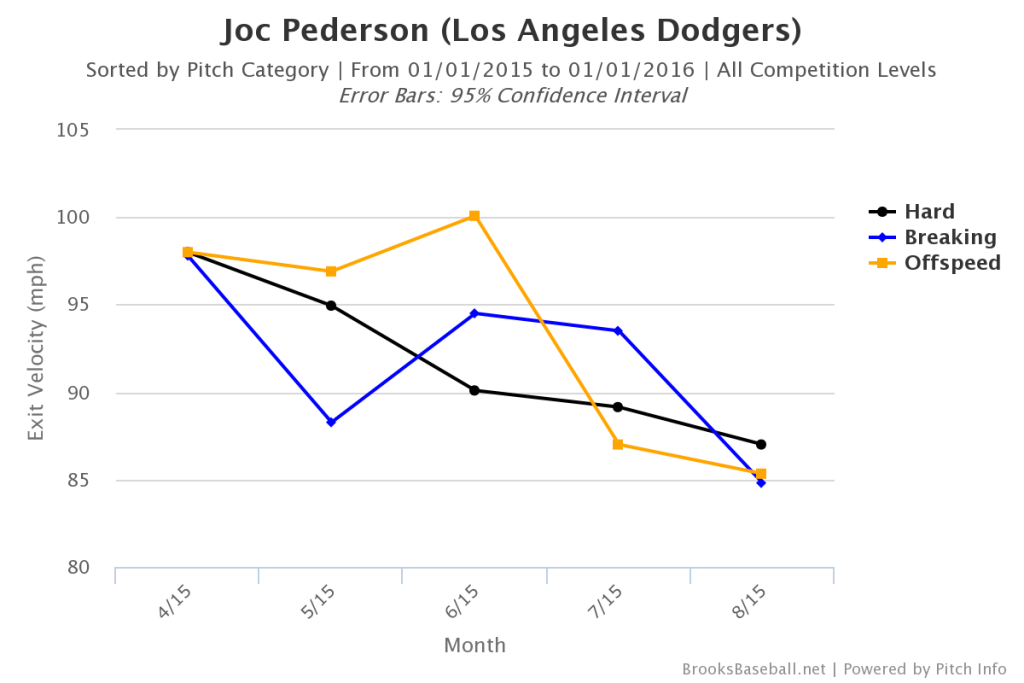 This could be due to a change in the way pitchers are attacking Pederson with their fastballs.
Earlier in the season, they took the typical approach, concentrating their fire on the lower outside area of the strike zone. Without much of a major league-level book on Pederson, this makes perfect sense.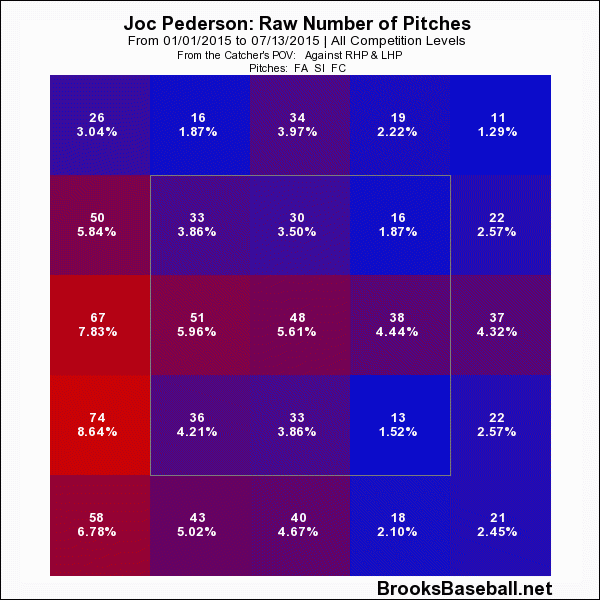 And Pederson responded by swatting 20 home runs, 12 of which travelled more than 420 feet, according to ESPN's Home Run Tracker. His power didn't discriminate by pitch type, but he seemed to have a particular zest for fastballs away.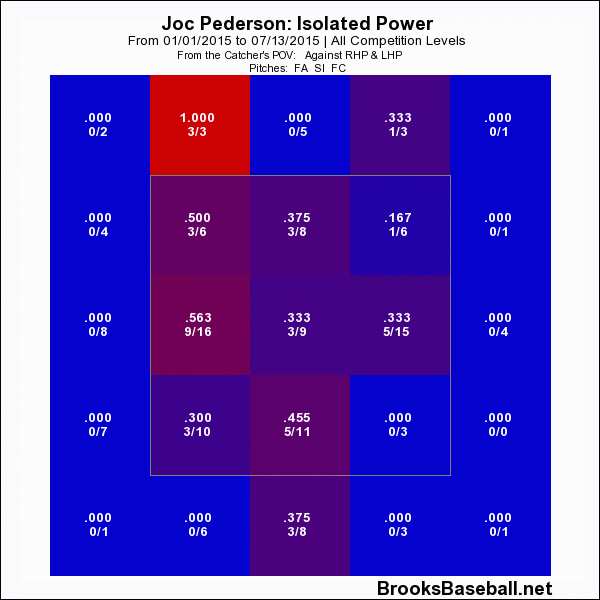 Since the All-Star break, pitchers have adjusted, spreading out their fastball location and neutering Pederson's power; he's managed only two home runs in the second half, neither of which cracked even 390 feet.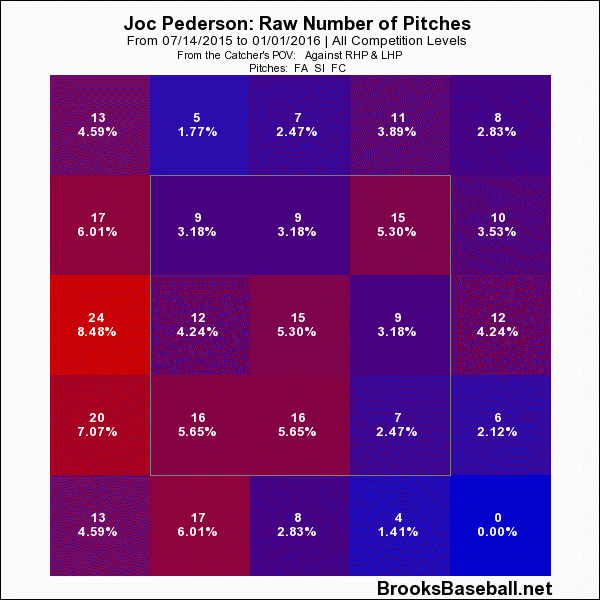 I believe he'll eventually figure this out, but right now, Pederson hasn't shown an ability to adjust to the adjustments. Though his walk rate remains excellent, he's swinging at fewer strikes and more balls, and making more weak contact as a result. Per FanGraphs, his .110 second half ISO lags behind comparative weaklings like Delino DeShields and Elvis Andrus, the former of whom just hit his first big league home run last week.
You may not be able to get what seems like fair value for Pederson in the midst of his chilly second half, but his owners (in redraft leagues) would be wise to at least peddle the rookie around to any power-needy leaguemates. Pederson's season-long numbers still look pretty good, but with the way he's been figured out in the second half, I wouldn't bet on him reaching the seven ROS homers projected by ZiPS and Steamer.  
I'd trade/drop him for: Jorge Soler, Curtis Granderson, Gregory Polanco
Ryan Zimmerman | Washington Nationals | 1B/3B/OF
Small sample caveats apply, but second-half Ryan Zimmermann looks like a completely different hitter. He's smashed 11 extra-base hits in just 71 plate appearances while nearly doubled his career strikeout rate. He's swinging about as often as he typically does, but making a great deal less contact. In exchange, he's generating significantly more power, with a 25.0% HR/FB rate that's more than seven percentage points clear of anything he's posted for a full season. It's not an illogical recipe for this kind of power production, but it's also only 71 PAs of completely out-of-character results from a player who's actually been quite consistent throughout his career. And despite a favorable .342 BABIP during this stretch, he's only hitting .266.
I suppose this version of Zimmerman could help a few fantasy owners, but I'm going to need more than 71 plate appearances of evidence to have faith that "Ryan Zimmerman, all-or-nothing power hitter" is a thing. Especially when half of the homers he hit during this stretch came against something called Yohan Flande, and especially when I've likely got my pick of plenty of other more proven one-dimensional power hitters.
If Zimmerman keeps this up through the rest of the season, I'll happily change my tune on him for next year's drafts, but until then, I'll stick with more of a known quantity.
I'd trade/drop him for: Miguel Sano, Yasmany Tomas, Pedro Alvarez
Doug Fister | Washington Nationals | SP
Nationals' GM Mike Rizzo made some comments last week that inched the door open for a possible rotation return for Doug Fister:
"…with Doug's track record of being so brilliant that Joe was throwing better than Doug and we felt that this was the move to make and that only helps the team and Joe is pitching well, but it also allows Doug to go to the bullpen and get himself straightened out because we may need him in the rotation later on in the season."
I mentioned the likelihood of an innings limit when we dug in on Joe Ross last week; it's probably coming at some point in September. And it's possible that Fister will return sometime around then to re-establish himself as a possible cog in a playoff rotation. And it may be just as likely that another of Washington's starters gets hurt; both Stephen Strasburg and Jordan Zimmermann have checkered pasts when it comes to health.
But for fantasy purposes, I really don't care.
Even if Fister re-enters the mix, the possible upside of rotation Fister isn't nearly high enough to warrant wasting a roster spot on the reliever version of him for the next couple of weeks. That's partly because Fister profiles as the sort of low-ratio, low-strikeout innings eater that can provide a ton of fantasy value in 200 innings, but not nearly much in 20, and partly because I'm not sure he's even worthy of that profile anymore.
Even in his recent relief appearances, Fister's fastball velocity hasn't quite bounced back.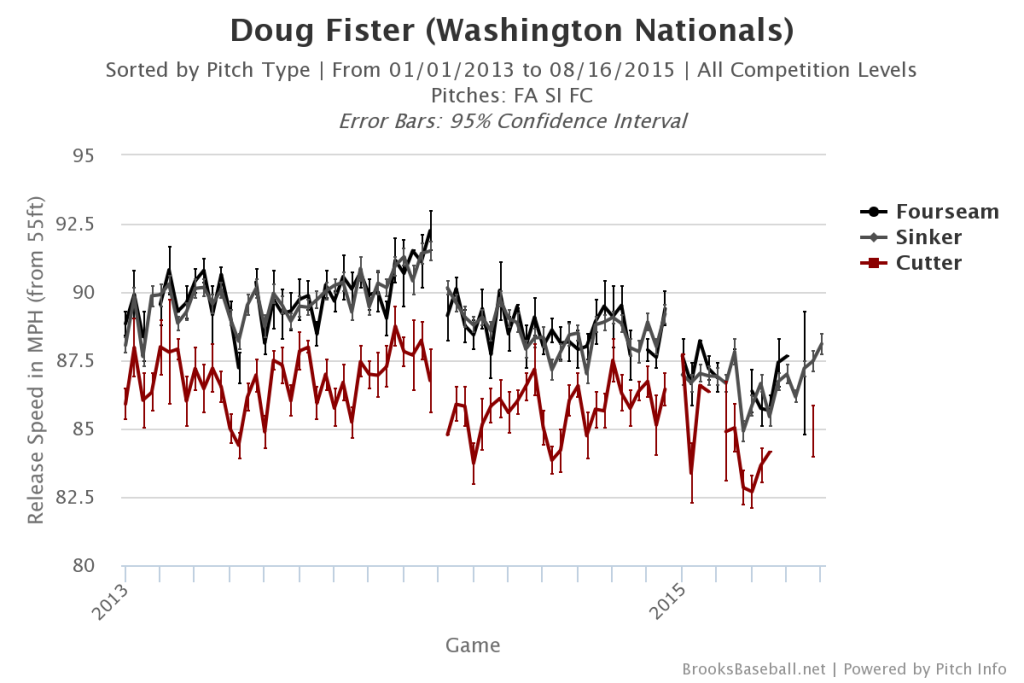 When airing it out still means throwing less than 90 miles-per-hour, it's fair to be worried. Especially when that loss of velocity probably has a great deal to do with the fact that his groundball rate has dropped to only 43.1%, by far Fister's worst rate since his rookie year. And he's got absolutely nothing to lean on if the sinker isn't working; Fister's curveball continues to look toothless and none of his other breakers are stepping in to fill the void.
Unless you're treading water in a deep NL-only league, there's no reason to own him.
I'd trade/drop him for: Patrick Corbin, Jonathan Niese, Nathan Karns
3 TO KEEP
Players to hold or trade for; owned in most standard leagues
Chris Davis | Baltimore Orioles | 1B/3B/OF
I'd like to just take a moment to recognize the hurting that Chris Davis is putting on all of major league baseball right now. Over the last 30 days, he's smacked 15 home runs and driven in 36 while posting an impossible .333/.414/.814 slash line. He's been worth more fWAR than seven big league teams and he's hit as many homers as the entirety of the Atlanta Braves.
Certainly, we can't expect him to keep this pace up much longer. Nobody could. But that doesn't mean he's a candidate to be traded. Selling high is all about convincing another owner that a short-lived trend is actually sustainable. In Davis' case, the numbers are so outrageous that I'm not sure it's possible to convince anybody that he's going to keep it up. He's hit six home runs in the last week and is knocking in better than a run per game this month!
Sometimes that sort of situation makes a player worth buying high on, but I wouldn't recommend that route either. It's not like Davis has done anything new during this hot streak. He's still striking out a ton (30.2% since the All-Star break) and still hitting the crap out of the ball when he makes contact. None of that is anything different from what we expected before the season began; it just happens to be happening in a more concentrated time period.
So the move with Davis is that there is no move. If you've got him, you're best off riding the wave. If you don't, the price to get him is likely too high for a player whose skillset builds in a great deal of risk.
I wouldn't trade/drop him for: Kris Bryant, Evan Longoria, Albert Pujols
I think we've all realized that Kyle Schwarber is really good, but until I really dug in on him today, I didn't realize exactly how good he's been. His teammate, Kris Bryant, is a shoo-in for National League Rookie of the Year, but if Schwarber had come up a bit earlier in the season, I have a feeling he would be giving his teammate a run for his money.
Since his debut, Schwarber has inarguably been among the best hitters in the game. Among players with at least 120 plate appearances, only Bryce Harper, Nelson Cruz, Giancarlo Stanton, and Mike Trout can top Schwarber's .586 slugging percentage. And despite only logging 131 plate appearances, Schwarber has driven in 27 runs. The only other player to knock in at least 25 in fewer than 150 plate appearances is 3×3 favorite and burgeoning Stanton clone Miguel Sano.
Fun facts are awesome, but they don't win fantasy leagues. The real reason that I'm featuring Schwarber here is that even with his exceptionally limited track record, the projection systems have already anointed him a star. FanGraphs Depth Charts has Schwarber pegged to lead all catchers in homers and runs scored over the balance of the season; he's projected to trail only Buster Posey in RBI. Even in redraft leagues, Schwarber is a borderline top 50 player. You all have my permission to overpay in a trade.
I wouldn't trade/drop him for: Salvador Perez, Stephen Vogt, Brian McCann
Max Scherzer | Washington Nationals | SP
It's likely a longshot, but if there's an elite pitcher to target as fantasy trade deadlines near, it's Max Scherzer. His last month has been a profoundly odd combination of dominance and disaster in which he's ranked sixth-best in baseball in xFIP and fourth-best in strikeout rate, but 19th-worst in ERA and fourth-worst in HR/9.
But don't worry, all the tools are still there. His velocity is fine and his slider remains outstanding, though his curveball has abandoned him a bit. In fact, it's really Max Scherzer's Curveball that's had a bad month, more than anything else.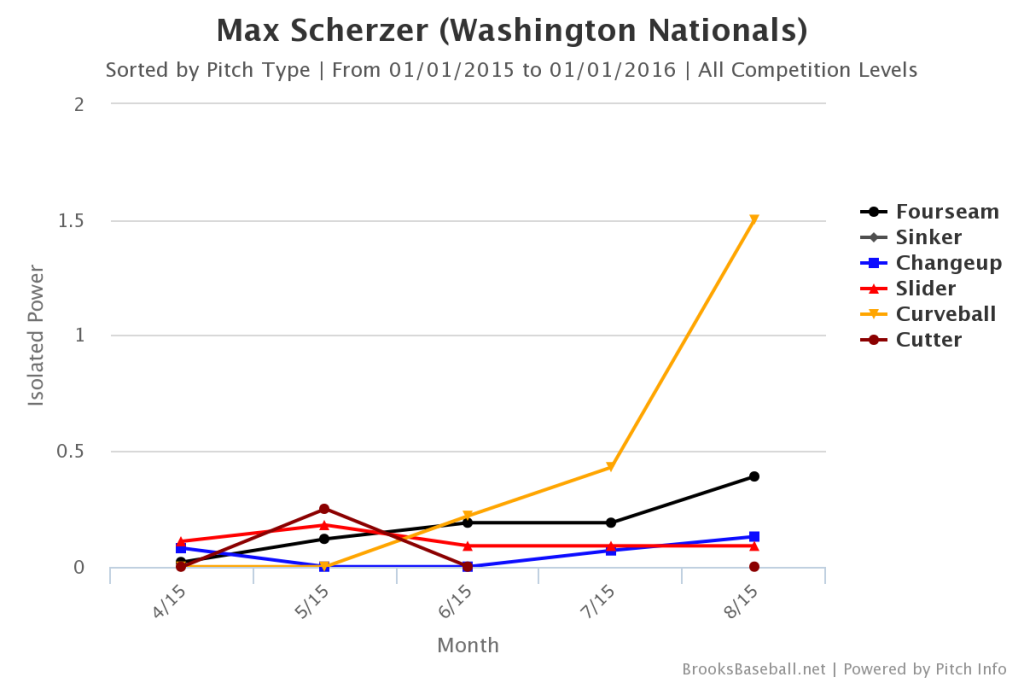 But he's only thrown ten of them in August, and I think we'll all take a years-long record of dominance over a fortnight's worth of crappy curveballs. There's nothing wrong with Scherzer, but it's possible that this outrageous run of unfortunate luck has docked his trade value ever so slightly. And that's enough reason to try to make a move. Even if the answer is a firmly slammed door, now's a great time to at least put out a feeler for a trade to Scherzer's owner. If you can get him for anything less than full value, he's the kind of player who can be the difference down the stretch of a championship race.
I wouldn't trade/drop him for: Madison Bumgarner, David Price, Sonny Gray